East Dunbartonshire Council strike action called off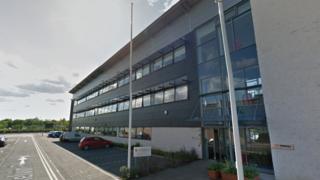 Four days of planned strike action at East Dunbartonshire Council have been called off.
The industrial action, involving council waste workers, was due to start on Thursday.
Council officials put forward alternative proposals relating to potential changes to terms and conditions.
The GMB union welcomed the "climb-down" and said "the ball is very much in their court".
The strike would have involved members of the GMB, Unison and Unite based at the Hilton depot and Mavis Valley Recycling Centre.
'Enough is enough'
The GMB said council officials agreed to reverse their decision to cut overtime allowances, annual leave entitlement and changes to the notional working day.
GMB Scotland Organiser Hazel Nolan said: "Make no mistake that GMB members have led from the front to defend their interests while councillors who bulldozed through these cuts tried to duck their responsibilities.
"We still have some road to travel to restore our members' full redundancy entitlements but if the council do the right thing in these negotiations then the threat of any future industrial action will be lifted.
"This evening's climb-down should send out a clear message that the rights of our members must be respected and that after 10 years of austerity, 'enough is enough' of council cuts."
'Difficult decisions'
Joint Council leader Andrew Polson said: "Significant progress has been made and I'm delighted that the trades unions have withdrawn strike action over the next few days.
"The joint administration is committed to working together with the trades union in good faith to reach agreement which is mutually acceptable and I'm hopeful that this can be achieved next week."
Joint council leader Vaughan Moody added: "We've stated previously that the current financial climate is extremely challenging and difficult decisions have had to be taken but it's positive that the current negotiation process is identifying potential alternative solutions and hopefully discussions next week will conclude with a negotiated settlement."
Members of the GMB, Unison and Unite will continue with an overtime ban and work to rule.