President Trump paraglider protest accused is freed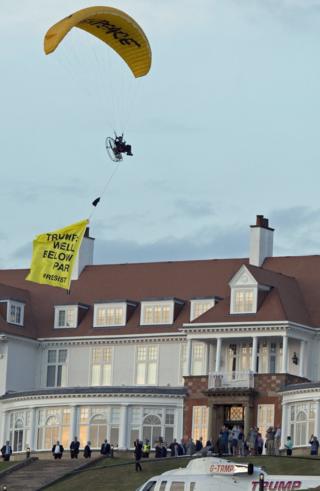 A man accused of flying a paraglider over the Turnberry golf resort in protest at Donald Trump's visit to the UK has been freed from custody.
The Crown Office said the 55-year-old was released pending further enquiries and did not appear in court.
The aircraft, trailing a protest banner, was flown over the South Ayrshire property on Friday evening despite a high police presence.
President Trump was at Turnberry during the private leg of his UK visit.
He was on the front steps of the hotel as the light aircraft approached and was ushered inside by armed police officers.
The aircraft held a banner reading: "Trump: well below par #resist".
Protest organiser Greenpeace has said it gave police a 10 to 15 minutes warning.
But Police Scotland said the man flying the glider had put himself "in grave danger" by breaching the air exclusion zone around the golf course.
President Trump was heckled by protesters as he played golf on Saturday afternoon after they gathered around the perimeter of the resort.
In Edinburgh, thousands of people marched through the city in a demonstration against President Trump's controversial four-day trip to the UK.
The presidential motorcade left the golfing resort on Sunday afternoon, heading towards Prestwick Airport.
On the runway, President Trump - who bought the Turnberry in 2014 - boarded Air Force One with his wife.
He has since met Russian president Vladimir Putin in Helsinki.