Homophobic attack victim 'nearly fainted' over Sturgeon support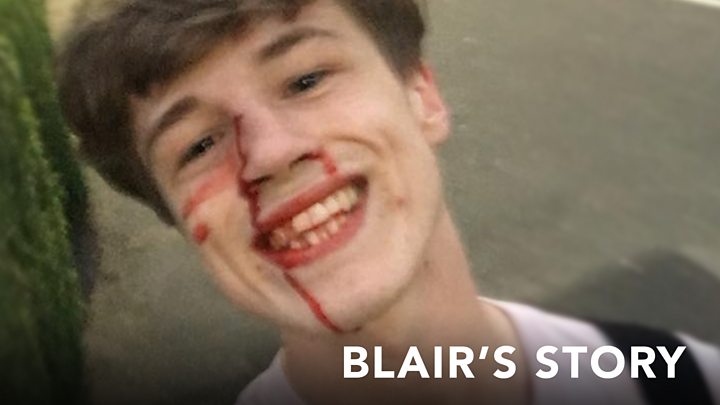 A man who shared a defiant selfie following a homophobic attack, said he "nearly fainted" after Nicola Sturgeon praised him during her Pride speech.
Blair Wilson posted a photograph of him smiling, with a black eye and blood running down his face, after the assault in Neilston, East Renfrewshire.
He was attacked after confronting people who shouted abuse at him as he walked home.
The first minister said Blair showed values that should define the country.
The 21-year-old told the BBC's Good Morning Scotland radio programme: "I had about 5,000 mails on Facebook from everyone I know saying 'oh my goodness, I'm at pride and Nicola Sturgeon is speaking about you'.
"I nearly fainted. I could not believe it.
"My mum and dad and family had went on holiday a few days before. Obviously my mum had seen the video of Nicola Sturgeon on Facebook and she phoned me crying saying how proud she was of me. She couldn't believe the first minister was speaking about me."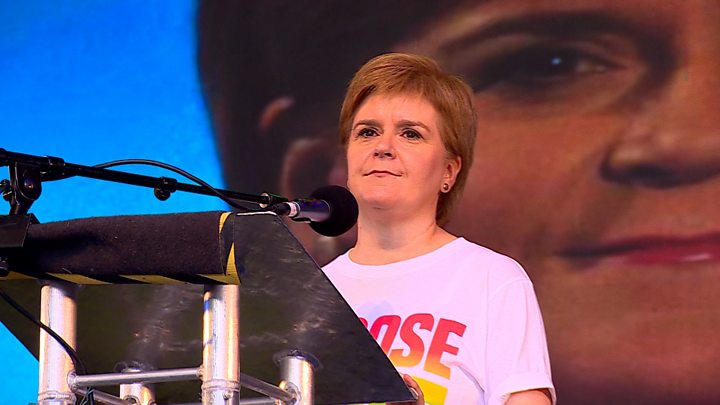 Blair spoke to BBC The Social about the attack.
He said he was walking home from his mum's house when he heard the abuse shouted at him.
"I was going to walk away but I had a moment where I was like 'I shouldn't be letting this happen in the place where I've lived for 21 years of my life'," he said.
"So I walked over to the people who shouted and I just asked 'Why?'. I wasn't physical or anything, I was just curious as to why they felt the need to shout that at someone who was minding their own business."
He began to walk away but then the assailant followed him and kicked him in the chest and punched him in the nose.
The first minister, who led thousands of people at Glasgow's Pride event, praised the 21-year-old's bravery.
She said: "Instead of cowering away, he spoke up and let me tell you this, the principles and values demonstrated by that young man of dignity, courage and compassion are the values that should define our country.
"So Blair, we all stand with you."
Blair told BBC Scotland he now hopes that the support from the first minister and the reaction to his selfie will help to change people's views.
He said: "Since seeing my selfie, as trivial as it sounds, it can trigger an emotional connection with someone and I think that's when people really start to care about an issue.
"Nicola Sturgeon speaking about it at Pride as well really struck close to people who maybe wouldn't have necessarily thought about that being as big a deal right now."
He added: "Seeing the comments and support from everyone is the best painkiller.
"I really hope people will look at the selfie and think, I know a wee boy like that, or I know a wee girl who is gay as well, or I know a little trans youth who is getting abuse from people in the street and I've not necessarily done anything to stop it."