Glasgow Green has lost its 'green' due to sunshine and festivals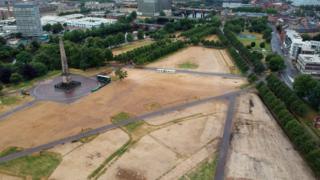 Aerial photographs have shown that Glasgow Green has lost its "green" after five days of the TRNSMT music festival and weeks of sunny weather.
Thousands of people attended the festival, which was held over two weekends, to see acts including Liam Gallagher, The Killers and Stereophonics.
More events like BBC Proms in the Park and GO-LIVE! are planned later this summer.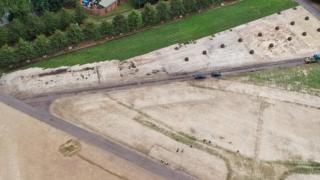 How green is your garden? (Send us a picture)
With a warm and dry summer, many people are coming back from holidays to find their lawns lacking colour too.
But is yours as sad-looking as Glasgow Green? Send us a picture to newsonlinescotland@bbc.co.uk
Usual conditions of use apply.
The advice from gardening experts is to keep your grass well fed and watered, mowed regularly and if really bad to re-seed when and where you need.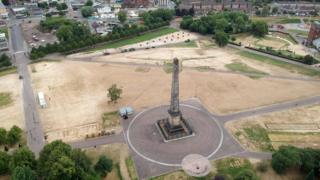 A spokesman for Glasgow City Council said work was taking place to lay turf back on to the green, especially in the corner where the main stage was situated.
He added: "Like many of us in recent weeks, the grass has effectively suffered from sunburn.
"It must be stressed, however, that the grass at the Green has not died, with the vitally important root systems still very much alive.
"There is further rain forecast for the end of this week and that will aid the recovery of the grass as will a general return to the weather more usually experienced in Glasgow."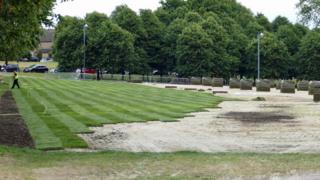 TRNSMT will return next summer for a three-day event from 12-14 July.
The park has reopened to the public after being fenced off while the festival was on.
All images are copyright.