Cameron House handed back to owners after fire investigation work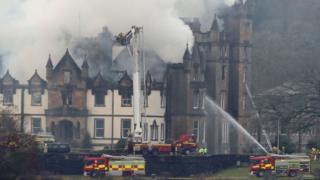 Fire-hit luxury hotel Cameron House has been handed back to its owners.
Police confirmed control of the building has been returned to the hotel but that the investigation into last December's fatal fire is ongoing.
Guests Simon Midgley, 32, and Richard Dyson, 38, died after the blaze gutted the main house of the resort. The cause of the blaze is still unknown.
Forensic teams had to wait until the building was made safe in April to begin investigation work.
A Police Scotland spokeswoman said: "We can confirm Cameron House Hotel has been handed back to the owners and the investigation into the fire is ongoing at this time."
The Crown Office also confirmed that the investigation will continue.
A spokesman said: "The procurator fiscal has received reports in connection with the deaths of Simon Midgley and Richard Dyson at the Cameron House Hotel, Loch Lomond on December 18, 2017.
"The investigation into the death by Police Scotland, under the direction of the Scottish Fatalities Investigation Unit (SFIU), is ongoing and the families will continue to be kept updated in relation to any significant developments."
The hotel's owners have announced plans for a "careful and sensitive restoration" of the damaged structure.
The 18th century building on the banks of Loch Lomond, near Balloch, is to reopen in the autumn of 2019.
Parts of the hotel, including two restaurants, its lodges and the spa, have continued to operate.
A statement on the hotel's website said: "Cameron House on Loch Lomond will embark on a careful and sensitive restoration project which will see Cameron House Hotel, The Leisure Club, The Great Scots Bar and Cameron Grill remain closed until autumn 2019.
"The Spa at Cameron House, The Carrick Golf Course, The Marina, Cameron Lodges, The Boat House and Claret Jug restaurants remain open as usual."
More than 200 guests were evacuated after the alarm was raised over the fire at about 06:40 on 18 December 2017.