Taking down the Mack piece by piece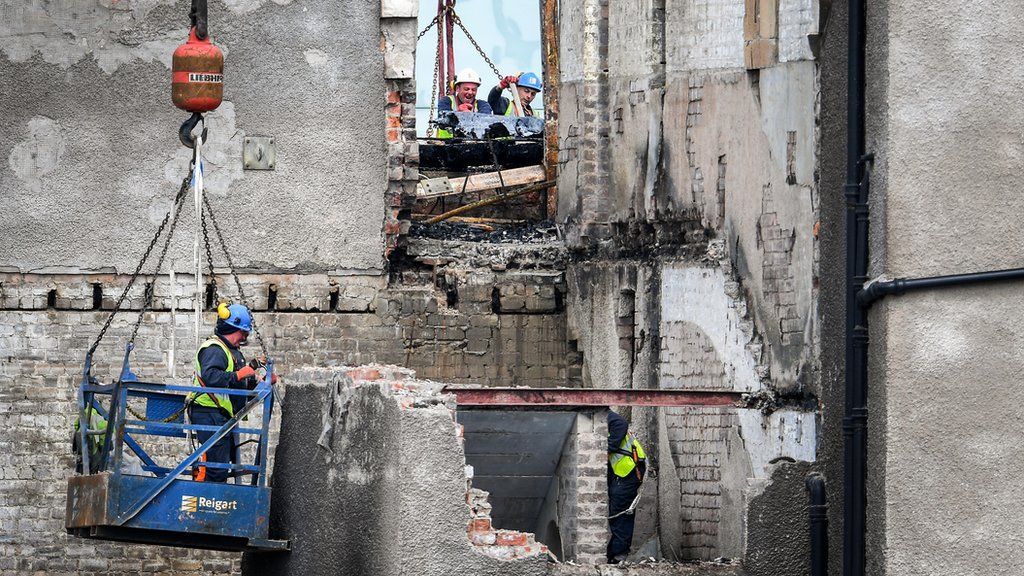 New pictures show the painstaking work to dismantle parts of Glasgow School of Art's Mackintosh building after it was gutted by a second devastating fire.
Experts had advised that sections of the building must be removed on safety grounds after the blaze on 15 June.
The fire broke out just as restoration work on the Charles Rennie Mackintosh-designed building was nearing completing, following an earlier fire in 2014.
Structural engineers David Narro Associates and GSA contractor Reigart are storing the removed parts of the building in the hope that the building, known as The Mack, can be rebuilt.
They confirmed that the work which began last week has been going to schedule, with three cranes operating on site for 12 hours almost every day.
The central section of the south facade, above Sauchiehall Street, has been lowered and the south-east staircase - one of the most fragile areas of the building - has been taken down safely.
On the north-east facade the steel beams of the roof structure have been removed and in the centre of the north facade the turret and a section directly above the main entrance have also been removed.
Where stonework has been assessed as significantly damaged and too dangerous to lift off the building, it has been pushed into the interior.
Prof Tom Inns, Glasgow School of Art director, said: "The GSA's priority is to make the Mackintosh Building safe and stable so that the community can return to their homes and businesses at the earliest possible moment.
"Our contractors are working hard to achieve this and are currently on schedule."
Local residents and businesses have complained about disruption and a threat to their livelihoods as a safety cordon remains in place in the area.
All images are copyrighted