Arrest after fireworks launched near SDL rally in Glasgow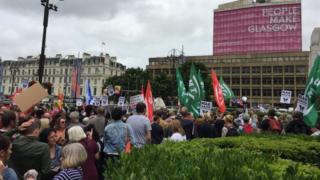 A man is to appear in court after fireworks were launched at police during a far-right rally in Glasgow.
The incident took place near a Scottish Defence League (SDL) demonstration in George Square on Saturday, which also drew counter-protesters.
Police said about 40 people - not connected to either group - threw "smoke bombs and pyrotechnics" at officers on a nearby street.
No-one who was part of either demonstration was arrested by police.
A 26-year-old man was charged in connection with culpable and reckless conduct and is due to appear at Glasgow Sheriff Court on Monday.
About 50 people attended the SDL rally, which called for police to "deal with Glasgow's grooming gangs" and promote people's right to "highlight the issue".
Unite Against Fascism Scotland organised a counter-demonstration, which had gathered support from trade unions, pro-refugee campaigns and anti-racism groups.
'No concerns for safety'
Supt John McBride said: "The SDL demo and the counter protests that took place in George Square on Saturday passed peacefully with no arrests made.
"While the demonstration was taking place, a group of around 40 people who appeared intent on causing disorder were stopped by officers in nearby North Hanover Street.
"Smoke bombs and pyrotechnics were thrown at police officers at this time, however thankfully there was no-one injured.
"It is evident that those involved in the disorder in North Hanover Street had no concerns for the safety of everyone in that busy area and police enquiries are ongoing to identify those involved."