Fife customers urged to use water 'wisely' in dry spell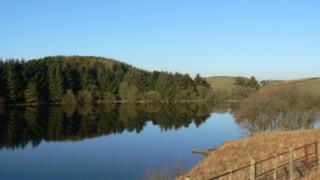 Homes and businesses in Fife are being urged to use water wisely as a result of the dry summer.
Scottish Water says water levels are currently lower than normal at two reservoirs - Glendevon and Glenfarg - that serve the area.
The utility is using water from the River Earn to top up supplies and asks customers to be careful what they use.
Peter Farrer at Scottish Water said recent rainfall was welcome but more was needed.
"While the recent rainfall is very welcome there has been a prolonged dry spell in Fife in the preceding weeks and water levels remain lower than would be expected at this time of year," he said.
"Further sustained rainfall is needed to return water levels to normal levels.
"In the meantime, we are would urge customers in Fife to use water wisely as taking simple steps to preserve water helps us maximise water resources.
"Scottish Water will continue to monitor water levels in the area take measures to maintain a supply of quality drinking water to all our customers."
Scotland has so far escaped the threat of hosepipe bans, however communities on private supplies have been offered help.
Ministers are making funds available to local authorities to provide emergency water to affected communities.
Both Glendevon and Glenfarg reservoirs are located in Perth and Kinross but serve the majority of customers across Fife.
In some areas of Scotland there has been a 30% increase in demand for water during the summer so far.
Scottish Water says it is supplying an additional 140 million litres of water every day to meet demand.
Advice on using water efficiently is available at www.scottishwater.co.uk/savewaterscotland.