Raids target crime group behind £4.6m benefit fraud
By Reevel Alderson
Home affairs correspondent, BBC Scotland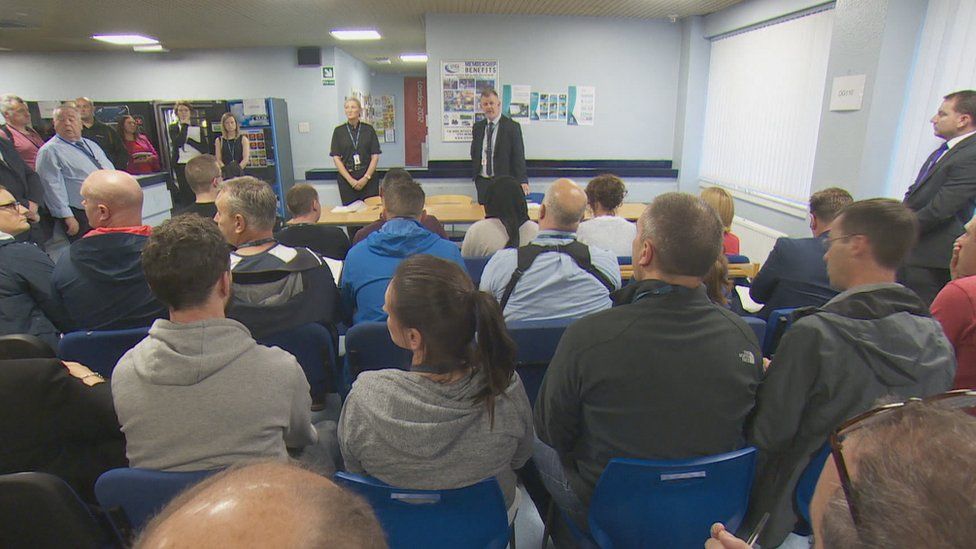 Homes and businesses have been raided in Glasgow as part of a major crackdown on "industrial scale" benefit fraud.
Police said Operation Arnos, which targeted addresses in Govanhill, led to 16 arrests and the seizure of over 200 productions from a business.
More than 100 officers were joined by staff from the Department of Work and Pensions, HM Revenue & Customs and Home Office Immigration Enforcement.
An organised crime group is behind the fraud, which could be as much as £4.6m.
Police said the first phase targeted members of the crime gang while the second focused on the facilitators.
The force confirmed 14 individuals were arrested on suspicion of benefit fraud, mortgage fraud and money laundering.
A woman was arrested on warrant and a man was arrested in connection with a cannabis cultivation, which included several hundred plants with a potential street value of about £200,000.
Fraudulent documentation was also recovered from a vehicle which had been used as a mobile office.
Assistant Chief Constable Gillian MacDonald said the offensive has been planned since late last year.
She said: "Today's operation is the largest of its kind since Police Scotland came into being.
"Quite simply it is targeting organised crime in one of our local communities here in Govanhill.
"What we are dealing with today is an almost industrial scale benefit fraud, an attack on the UK benefits system by an organised crime group."
Assistant Chief Constable MacDonald said the group had been active for some time.
She added: "This gang has been operating in and around Govanhill using local premises and a mobile office to carry out a variety of crimes, which are undoubtedly impacting on the local community.
"People have been claiming benefits to which they are not entitled and using false IDs but this activity has been orchestrated by individuals who are reaping millions of pounds from the benefits system while also claiming benefits themselves.
"We fully expect there will be more arrests as a result of this operation over the coming weeks and months."
Officers are also looking for evidence of people trafficking and illegal immigration.
A total of 37 premises were visited on Wednesday and a number searched.
The haul of more than 200 productions from a business in Govanhill included documentation and electronic devices.
Officers attended a number of addresses intending to speak to residents claiming housing benefit but several had clearly been empty for a prolonged period.
To date about £1.5m of fraudulent benefit claims have already been stopped
Bob Gallacher, senior investigations leader at the DWP, warned this type of criminality is occurring in cities throughout the UK.
And Joe Hendry, assistant director of HMRC's Fraud Investigation Service, said: "This is suspected benefit fraud on a massive scale.
"Benefit fraud is theft - it takes taxpayers' money from our vital public services and puts it into the pockets of criminals.
"We will continue working with our partners to investigate and stop these offences."
Related Internet Links
The BBC is not responsible for the content of external sites.