Fire at Old Stobhill hospital site started deliberately, say police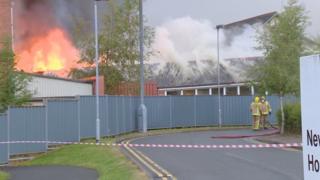 Police and fire investigators say a fire at the site of old Stobhill hospital in Glasgow was started deliberately.
Following a joint investigation, the incident is now being treated as wilful.
More than 100 firefighters were called to the fire in Balornock Road, Springburn, on Tuesday evening.
Detectives said the fire had the potential to affect the neighbouring working hospital on the same site.
Firefighters remained overnight at the scene of the blaze to bring it under control.
There were no reports of casualties.
According to NHS Greater Glasgow and Clyde, the fire broke out in the former out-patient and radiology departments and had completely destroyed the building.
A number of category B listed buildings are on the site, which opened to provide medical care for the poor in 1904.
New Stobhill Hospital
A replacement hospital specialising in areas such as day surgery opened in 2009, with in-patient and A&E services transferred to Glasgow Royal Infirmary.
The neighbouring new Stobhill Hospital building was unaffected by the blaze.