'I'd rather die than live on the street' says asylum seeker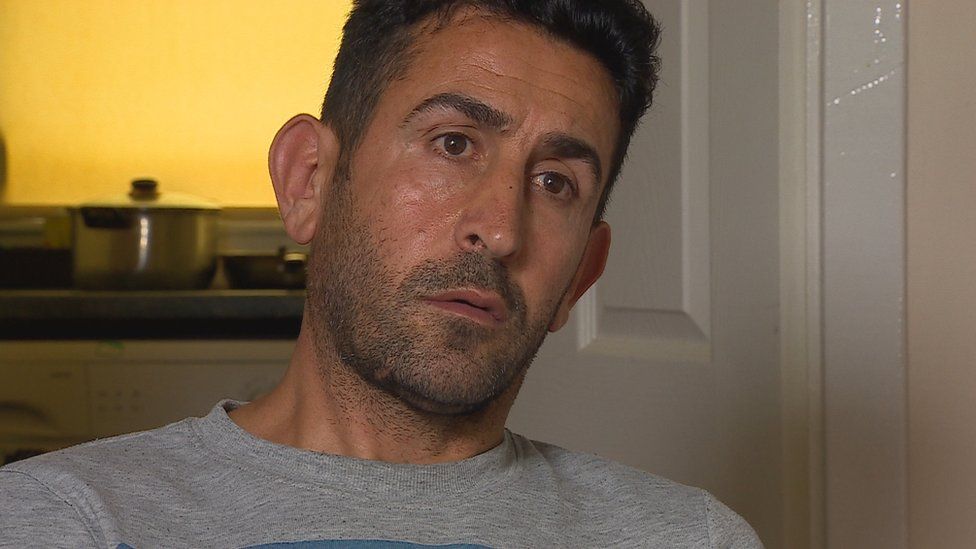 An asylum seeker facing eviction from his accommodation in Glasgow has said he would "rather die than live on the street".
Iranian national Khalil Fatahy is one of six people told to leave by Home Office housing contractor Serco.
The bid to evict the asylum seekers has been paused while charities and rights groups challenge it in the courts.
Mr Fatahy told BBC Scotland he just wanted to be given the right to work so he could "earn his way out" of poverty.
The Home Office says it is right that people who have failed in their applications for asylum should leave the country.
Serco - a private outsourcing firm which provides accommodation and other services for the government - says it is currently housing 330 people for whom Home Office support has ceased.
About two thirds of this group have been denied asylum, and the firm started efforts to evict people on the basis that it can no longer afford to put them up for free.
After a public outcry this was put on hold, with legal challenges at Glasgow Sheriff Court and the Court of Session in Edinburgh under way to establish whether Serco and the Home Office are on the right side of the law.
Mr Fatahy said he could prove that his life was in danger in Iran due a "family issue".
He said he would have nowhere to go if he was forced to leave his accommodation, calling the fate facing the six people initially served with eviction notices "inhumane".
He said: "I would rather die than live on the street. That's just not life. I've been kicked out of my own country, and this one is kicking me out too. My country and this country - there is no difference between them."
Mr Fatahy, who worked as a merchant in his uncle's business in Iran, said he just wanted to be given the right to work so he could prove he could make his own way in life.
He said: "I'm not asking for help with housing, or benefits. Just give me the right papers, even with one leg I will survive. I will earn my way out.
"That's all I need, just give me a right to work, just give me a passport and you'll see. I don't need this house, I'll leave it myself.
"I hate the whole idea of the government taking care of me. I want to take care of myself, the government just needs to give me the right papers, the legal rights, and I will earn my way out. I don't like to ask for help, that's not who I am."
Shelter Scotland, which is representing two asylum seekers in the legal challenges, said the evictions were a "deplorable and inhuman course of action".
However Secro insists that its approach is "fully within the law", and welcomed the court action as providing clarity on this point.
The Home Office said that while "those who have no right to remain" should leave the UK, it would "still provide accommodation for those who would otherwise be destitute" if they are temporarily unable to go.
UK Immigration Minister Caroline Nokes is expected to meet Scottish government ministers later to discuss the evictions issue.
Govan Law Centre, which had also lodged a case at the Court of Session in Edinburgh, said on Monday evening that eviction proceedings against two asylum seekers it was representing had been dropped by Serco.
It said the case would still go before the Court of Session, though, in order to debate the legal principles.
Mr Fatahy, who has lodged a fresh claim for asylum, said he wanted the system to "see me as a human being".
He said: "I was already unhappy, probably in the worst place in life, but this just came on top of it. Where do I go, how do I live?
"I came to a country where it is known for democracy and equality, but have I been given that? What Britain is bragging about - I don't feel that at all.
"I want to be treated equally. If people in Glasgow are unhappy, I want to be unhappy. If they are happy, I want to feel that happiness.
"I just want to be a citizen of Glasgow, to be treated like one. I want to share my experience with them and them to share their experience with me."