Scottish teenager aims to break mountain climbing record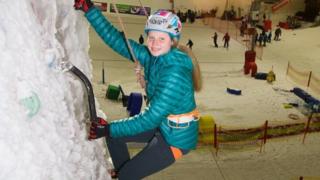 When her classmates return to school next week after their summer holidays, Caitlin Connor will be climbing three of Europe's tallest mountains.
The 15-year-old - a pupil at Stonelaw High School in Rutherglen - is heading for the Alps on Sunday in a bid to become the youngest Scot to achieve the feat.
She is ranked 5th in the world in her age group for ice climbing, and has been training at Snow Factor Braehead.
Caitlin is also fundraising.
Poppy Scotland and Glasgow-based climbing charity Urban Uprising will benefit from her efforts.
Over the course of 10 days she aims to climb Mont Blanc, Grandes Jorasses, and the Matterhorn, with the guidance of seasoned alpinist and speed-flyer Will Morris.
As long as the weather permits, Caitlin - who is a member of the Scottish Climbing and British Ice Climbing Teams - hopes to reach the summit of the Matterhorn on or about 19 August.
The teenager said: "I've always wanted to climb Mont Blanc and the Matterhorn.  They are such iconic mountains.  I'm really excited."
Necessary skills
The young climber's father Mick admitted to feeling anxious: "As Caitlin's parents we obviously have some apprehension and are aware of the risks involved, but also believe that she has the necessary skills and qualities needed to complete this huge challenge.  
"If successful, I believe she may be the youngest Scottish and possibly British climber to successfully climb all three mountains."
Caitlin's ambitions stretch further than breaking records; she wants to compete at the World Youth Ice Climbing Championships in Finland next March.
She is also hoping for a place on Team GB, should ice-climbing be selected as a sport for the 2022 Winter Olympic Games.