Emergency funds for Glasgow rape crisis group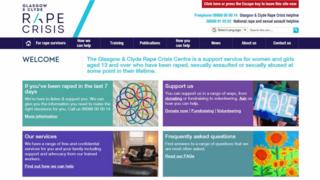 A rape support service in Glasgow is to receive emergency Scottish government funding after a BBC Children in Need (CiN) grant was not renewed.
Glasgow and Clyde Rape Crisis said it would have to close its waiting list after losing the £35,000 grant.
The Scottish government said it would make up the shortfall so it could maintain its services.
CiN said it had helped fund the service since 2012 but did not have enough money to grant all applications.
It also denied reports that the group was turned down because it did not do enough support male survivors of abuse.
In a statement it said: "Glasgow and Clyde Rape Crisis' three-year grant recently came to the end of its term, and their subsequent application for new funding was unsuccessful.
"This decision was in no way connected to the support of male victims, we award grants to charities regardless of gender."
Government money
CiN said it currently funds 313 projects to a value of £18.8m in Scotland.
"Although the public are extremely generous in their support each year, we simply don't have the money to fund all of the projects that apply to us for grants and we have to make some really difficult decisions," the statement added.
Glasgow and Clyde Rape Crisis provides free, confidential support to women and girls who have been raped, sexually assaulted or sexually abused, covering an area with a population of more than a million.
Following the loss of CiN funding the group had started a crowd funding campaign to meet the shortfall.
The Scottish government, which already provides nearly £218,000 of funding to the charity, then stepped in with a £35,000 grant.
Equalities Minister Christina McKelvie said: "I'm pleased that we can provide this emergency funding which I hope will allow Glasgow and Clyde Rape Crisis to reopen its waiting list and continue to deliver the same level of service.
"We will continue to engage with Rape Crisis Scotland to assess this situation and to take a long term approach so that local rape crisis centres can continue to provide vital services not just in Glasgow, but across the country."
'Chasing funding'
Isabelle Kerr, centre manager at Glasgow and Clyde Rape Crisis, told BBC Scotland stability and long-term planning were desperately needed in the charity sector, where huge amounts of time and energy go into securing funding rather than focusing on providing much-needed services.
"We are constantly chasing funding," she said.
"We are either writing funding applications, reporting on funding applications, monitoring funding applications, applying for new funding applications and so on. It is an endless task.
"There possibly could be a more joined-up strategy, perhaps with some of the bigger charities getting together to look at that.
"This would allow organisations to be able to plan for the longer term - to make five or 10-year strategies."
A second branch of the charity - in Forth Valley - has also closed its waiting list because of funding problems.
Managers at the Forth Valley Rape Crisis Centre (FVRCC) said they regretted the move but were "still trying to reach a funding agreement with Falkirk Council".