Man attacked wheelchair-bound friend with samurai sword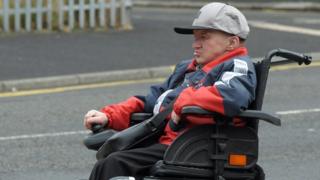 A man has been jailed for more than eight years after trying to kill his wheelchair-bound friend with a samurai sword.
Robert Paterson, 51, had allowed John Graham, 41, to move into his home in Drumchapel, Glasgow.
But in January this year Graham launched an unprovoked attack on Mr Paterson, who has a spinal condition.
He was found guilty of attempted murder after a trial at the High Court in Glasgow.
Mr Paterson ended up scarred for life.
But when he was released from hospital Graham asked to meet his victim and then made him pay for a McDonald's meal.
He denied attempted murder but was jailed for eight years and nine months.
Soaked in blood
Jurors heard Mr Paterson was at home when Graham suddenly lashed out and repeatedly struck him on the head with the sword.
The victim - who uses an electric wheelchair - recalled: "I was shocked by the attack.
"I had to think fast to get out the house."
Mr Paterson, who was soaked in blood, managed to escape and alert a neighbour.
He told the trial: "I wanted out to save my own life."
Mr Paterson spent five days in hospital being treated for a number of wounds.
He believed his attacker was going to hand himself into police.
'Virtual prisoner'
But, after getting home, he said Graham got in contact and asked to meet at a McDonald's restaurant in the city's Maryhill.
Prosecutor Duncan McPhie asked: "What happened there?"
Mr Paterson: "I said: 'I thought you were going to hand yourself in'.
"He said he was scared. We then sat and spoke nothing of general importance.
"He got the food that he ordered - obviously I paid as he had no money."
Graham later got in touch claiming he had "flashbacks" about what happened and that "something came over me".
He was eventually arrested but in court denied hurting his friend.
Lord Matthews told him: "Mr Paterson took you in, gave you shelter and you repaid him by doing something that could have taken his life."
The judge said, as a result, the victim now feels "a virtual prisoner in his own home".