Orange walk banned from passing 'priest attack' church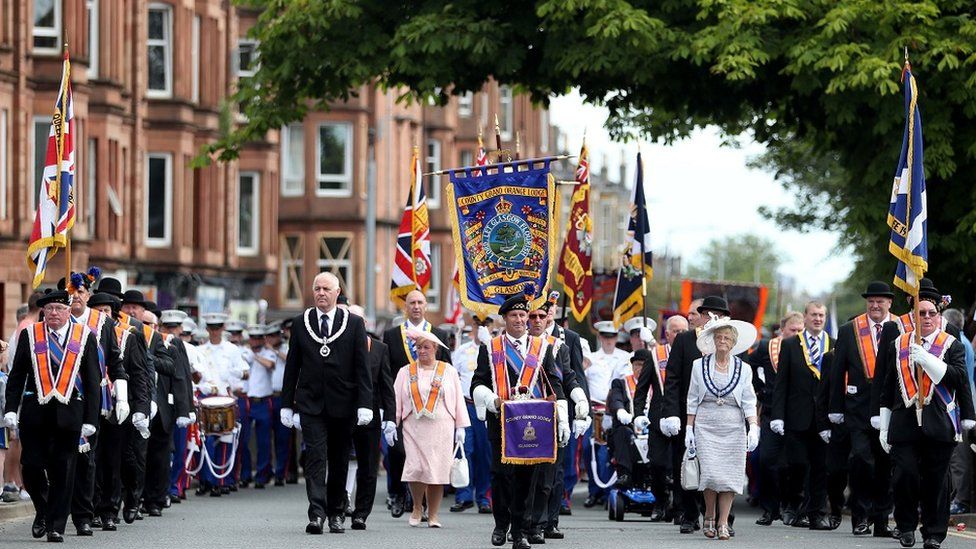 Glasgow council has banned the Orange Order from walking past the church where a Catholic priest is alleged to have been attacked.
Police Scotland welcomed the council's decision to re-route Saturday's march away from St Alphonsus' Church.
They said riot police would have been deployed to combat a counter-protest if had gone past the church.
But the Grand Orange Order of Scotland branded the decision "discrimination in its purest form".
The move follows a previous Orange march on 7 July, when Canon Tom White said he was verbally abused and spat on.
Canon White told BBC Scotland he was called "Fenian scum", a "beast" and "paedophile" during the incident.
A 24-year-old man appeared in court accused of an assault on Canon White, aggravated by religious prejudice.
The Grand Orange Lodge of Scotland said its members were not responsible for the incident.
The outcry led the Orange Order to postpone its next march, but this weekend's march, organised by Orange and Purple District 37, had planned to maintain its route past the Catholic church.
Supt John McBride told members of the council's public processions committee that intelligence had led him to believe there was the potential for nasty scenes if the Orange Order walked down Stevenson Street on Saturday.
He said Police Scotland was not asking for the route never to be used again but he had intelligence that Saturday's march could be seen as "an opportunity to cause disorder".
He said "specially-trained public processions officers" would be required if the parade was allowed to go ahead.
"In your mind's eye think of riot police without the helmets.
"They would ensure that any unsavoury element of protest or counter-protest would not lead to disorder. It would be at least five times the usual number of officers."
Ronnie Convery, representing the Roman Catholic Archdiocese of Glasgow, said: "On Saturday St Alphonsus' will be open for prayer and religious services just as it was a month ago when clergy suffered shameful violence and intimidation. People are afraid.
"The police report highlighted tensions in the area and on social media. These tensions have ramped up in the last 24 hours. The potential for public disorder is extremely high.
"We want to live in peace. Our people must feel secure. The city of Glasgow has 1,000 streets on which a march could take place. Only 50 have a Catholic church.
"While we all respect the rights of people to march and demonstrate, those rights cannot be seen in isolation. They cannot be exercised come hell or high water."
The Grand Orange Lodge of Scotland condemned the move.
A spokesman said: "We are extremely concerned at the decision today to re-route a parade and effectively ban us from certain streets.
"It is discrimination in its purest form.
"Glasgow City Council has now established the first 'no-go zones' in Glasgow based purely on your religion."
The spokesman said several concessions were offered, including moving the parade to a different day and avoiding a clash with services at the church, but these were rejected.
He added: "We were offered no concessions or negotiations in return.
"Instead we now have entire streets in Glasgow closed off at the request of one religion over another."
James G MacLean, representing the Orange Order, condemned the events of 7 July but questioned the need to ban the parade going past the church this weekend.
He added: "We have a number of concerns with the suggestion that the parade be re-routed because it happens to be on the route of a particular Roman Catholic church.
"We've already made it clear that we deplore the obscenity that took place previously.
"St Alphonsus' Church has never been attacked by an Orange march and I don't think there is any danger of that happening.
"It is an entirely peaceful Christian organisation which condemns thuggery and does not in any way support violence or any attack on clergy or people of different faiths."
Committee members unanimously agreed to stop the march going past the church this weekend but insisted that this was not a blanket ban.
Ken Andrew, who chaired the committee, said: "This should be in no way read that the Orange Order is responsible for the incident involving Canon White."
Anti-sectarian charity Nil by Mouth said the decision was "correct and responsible".
Director Dave Scott said: "There is in excess of a hundred loyal order parades each year in Glasgow so talk of 'no-go' zones in the city hardly stands up to serious scrutiny.
"The parade was rerouted because of the serious incident just a few weeks ago not because of some vendetta against the Orange Order.
"Going forward the Order need to sit down together with the council, police, Catholic Church and local residents and businesses to discuss legitimate concerns on all sides and plot a way forward."