Man stabbed lover 12 times after row over broken table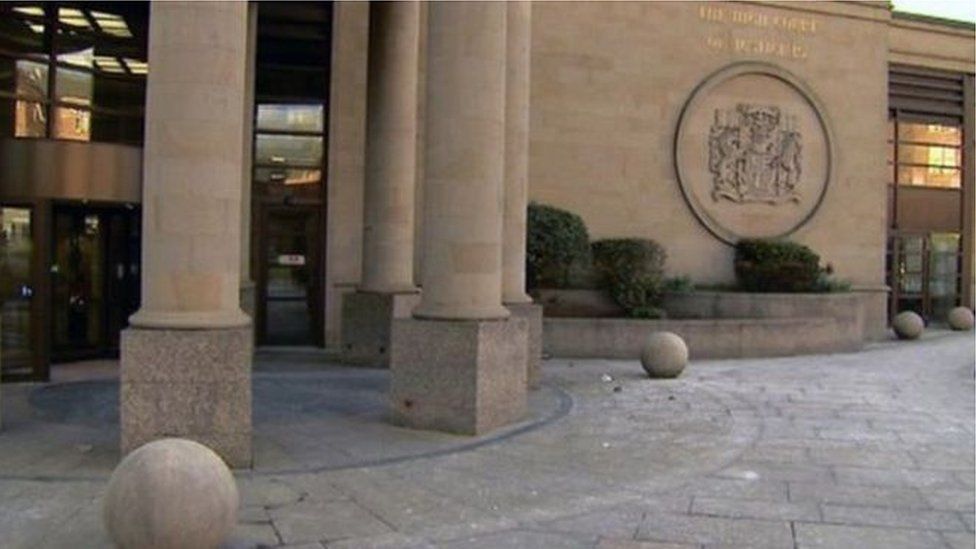 A man stabbed his girlfriend more than 12 times and then claimed the wounds were self-inflicted.
But police did not believe Francis McCudden, 54, because three of the stab wounds were in his partner's back.
The High Court in Glasgow heard he lashed out with two knives after Angela Rae, 39, complained about a smashed coffee table.
McCudden admitted attempting to murder Ms Rae at their flat in Coatbridge, North Lanarkshire, on 4 March.
The couple started rowing after Ms Rae was woken up by a noise and then discovered a table in the living room in pieces.
McCudden told her: "The way I see it it's a £30 table. We can get another in the morning."
But when Ms Rae continued to remonstrate he attacked her.
The couple had been in a relationship since June 2017.
She said: "He looked like a devil. I thought he was punching me then I realised he was holding a knife in each hand."
Ms Rae was worried that McCudden might stab her eyes or slash her face and put up her hands to protect her face and was slashed on one of her hands.
She managed to stagger out of the flat in Red Bridge Court and knocked on a neighbour's house to ask for help.
She was covered in blood from head to toe and collapsed on the eighth-floor landing.
Ms Rae told police: "Frankie McCudden just kept stabbing me. I didn't want to die."
Doctors at Monklands Hospital discovered that Ms Rae had four stab wounds to her right leg, one to her thigh, one to her left leg, two to the abdomen, one to the left breast and three to her back.
If left untreated, her injuries could have resulted in sepsis or death, the court heard.
Police found McCudden sitting drunk on a sofa in the living room rambling about money.
Prosecutor Maryam Labaki said: "He told them her injuries were self-inflicted. He made no reply when he was charged with attempted murder."
Defence counsel Rhonda Anderson said: "Mr McCudden does have quite an extensive record, including crimes of violence."
Judge Lady Scott deferred sentence on McCudden until next month at the High Court in Edinburgh and ordered an assessment of the risk he poses to the public.