Taxi drivers urge crackdown on 'pirates'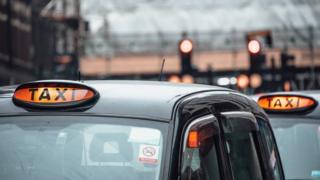 Taxi drivers in Glasgow have called for a crackdown on "pirate" cabs which illegally pick up off the street without prior booking.
Black cab and private hire drivers warned that the pirates were threatening their livelihood and putting the public at risk.
The Unite union said it was "deeply concerned" by the illegal hires.
Glasgow City Council called on the police to report pirate cabbies to the prosecution service.
It said prosecutors should take the situation more seriously and impose larger penalties.
While public hire black cabs are allowed to take people who have not booked, private hire cars are restricted to passengers with a pre-arranged booking.
Unite Scotland told BBC Scotland's Timeline programme that there had been a boom in illegal pick-ups, especially in Glasgow but also in Dundee and Aberdeen.
It said the pirate drivers were breaching cab licensing restrictions and invalidating car insurance by working in this way.
'I'll drive you to the cash machine'
Ellis Horne, a BBC Timeline reporter, investigated how many private hire cars would be willing to pick up her fare from the street on a busy Saturday night.
She said: "I approached private hire cars and asked if they could take me home without prior booking.
"In less than an hour, six said 'yes' and they all wanted to charge more than what I would normally pay - about one-and-a-half times the normal cost of the journey.
"Some drivers were a bit hesitant but it didn't take long before they decided it was fine to take me."
She added: "I did get told 'no' on several occasions so we should highlight not all drivers were willing to break the private hire guidelines.
"One driver I told I had been 'waiting forever' and he said 'okay no problem I can take you but it's £35 cash up-front, I can take you to the cash machine if you have no cash'."
'Not far enough'
Unite's Scottish Secretary Pat Rafferty said: "It's clear the current deterrents are not effective and are being circumvented by individuals.
"We now need to consider stronger measures including criminal sanctions in order to deal with this problem."
Councillor Alex Wilson said Glasgow City Council had increased sanctions on drivers caught illegally plying for trade.
He said: "We are talking three or four weeks at a time for a first offence, a couple of months for a second offence and then a full suspension for the remainder of your licence."
But the convener of the licensing regulatory committee called on the police to report illegal cab drivers to the procurator fiscal so they could have a points sanction imposed on their driving licence.
Mr Wilson said: "I don't think they are going far enough and I think between ourselves, Unite and Police Scotland, we need to send a message to the procurator fiscal that we would prefer to see a points system given to drivers who are caught."
The black cab driver
Steven Grant is cab section secretary at Unite and drives a public hire taxi.
He said: "We believe supply is now way in excess of demand.
"Glasgow has always had vastly more private hire vehicles (PHVs) per head of population than every other city in Scotland and the UK, with the exception of London."
Mr Grant thinks the situation is having a big economic impact on both taxi drivers and private hire drivers.
He said: "We are out there legitimately working to the conditions of our licences and we have these people - opportunists - sitting waiting to rip off the public.
"Everyone is okay with competition, but what we need is everyone to work legitimately.
"It is extremely dangerous because you have someone that is quite willing to break their licence conditions, to invalidate their insurance and there is scope there for further crime."
The private hire driver
Joe, a private hire driver, denies ever taking money from a pirate hire.
But he can see why drivers might be tempted by propositions on the street.
Joe (whose name has been changed to protect his identity) said: "Unfortunately it's one of the darker sides of taxiing out there.
"A couple of times I have taken someone home where I felt they were perhaps vulnerable.
"I mean, we have a duty of care, we will help, we will assist where we can.
"The temptation is always there. It's a fine line between greed and survival.
"At the end of the day, if the driver is struggling to feed kids, and put electricity in the meter, if somebody walks up to them and says 'here's £80', they think if these pirate drivers are going to take the money, why not use these people who are willing to throw money at me, to earn the money that I've lost?
"But really, drivers who are doing this at the moment, illegally, it's point blank disgusting."
'Illegal taxi touting'
Police Scotland said they would continue to work with the council's licensing department to tackle the problem.
Ch Insp Gillian Norrie said: "This is a licensing issue and as such we have been liaising with Unite and Glasgow City Council, who have taxi enforcement officers within their licensing department.
"We rely on incidents being reported to us and we encourage people to contact us if they have witnessed illegal taxi touting or have any information relating to illegal taxis.
"People should be aware of the risks of using an illegal taxi which includes drivers not being vetted or having any insurance cover. Licensed taxi drivers are vetted to ensure they are fit and proper persons to convey the public around."