Ansar Shah murder accused 'stabbed victim once'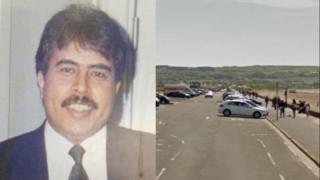 A man accused of murdering a restaurant manager 25 years ago told a jury that he stabbed him once in self defence.
Jagtar Singh, 51, claimed that Ansar Shah had knifed him in the stomach and said: "It was my revenge. If someone attacks you, you attack him back."
Mr Singh denies murdering 38-year-old Mr Shah in the car park of the Armaan Restaurant in Ayr on 4 October 1993.
The court heard that Mr Shah was stabbed three times with two of the wounds going through his heart.
Mr Singh denied stabbing Mr Shah three times, stating that he only stabbed him once in the abdomen.
'Take my revenge'
At the High Court in Glasgow, Mr Singh told of how he went to the car park with his brother Jaspal Singh, 54, to talk with staff at the restaurant.
He told defence QC Thomas Ross that he did not know what the dispute was about, but thought his brother may have owed money to someone at the restaurant.
He said: "When we got there seven or eight people came out and they all wanted to attack my brother."
The accused said he got involved after three men began assaulting his brother.
He told the court he was stabbed him in the stomach with a knife or a screwdriver by a man who was punching and kicking his brother.
Mr Singh said: "I hit him on the arm and grabbed the knife off him and in the next few seconds I stabbed him in the stomach and then ran away while the fighting was still going on.
"I didn't know what happened after that."
Mr Ross asked: "Why when you had taken the knife off him didn't you just run away,"
Mr Singh replied: "Why did he attack me with it.
"If someone attacks me I will not step back.
"I wanted to take my revenge. He struck me and I struck him."
'Save my life'
In evidence Mr Singh claimed that he did not know that Mr Shah had died until he was detained at Frankfurt airport on 9 November 2017, on his way back from a holiday in India.
Mr Ross said: "You are saying your brother never told you that someone had died," and Mr Singh replied: "I asked my brother what happened in the fight and he said 'Be quiet and forget about it.' He said to me 'Do not talk about this. Forget about that time, you are living happily with your family.'"
Mr Singh also denies attempting to defeat the ends of justice by changing his clothing and fleeing to England.
He told prosecutor Richard Goddard: "I did not kill Ansar Shah. I had a fight with him. I only stabbed him once."
When asked why he had fled to London hours afterwards, Mr Singh said: "Because I had a fight. I just wanted to get away and save my life and I was successful. I started a new life.
"I did not want to come back to this country again. It is not lucky for me."
The trial before judge Lord Beckett continues.