Tributes paid to former Glasgow University principal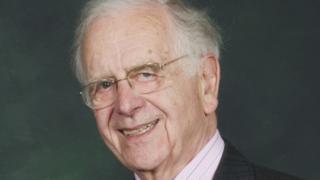 Tributes have been paid to former Glasgow University principal and chancellor Sir William Kerr Fraser who has died at the age of 89.
The university's current principal, Prof Sir Anton Muscatelli, described him as "a remarkable man".
Sir William obtained an arts and a law degree from Glasgow University before serving in the RAF and then joining the civil service.
He was principal from 1988 to 1995 and served as chancellor from 1996 to 2006.
Prof Muscatelli said: "In becoming principal, he had to steer the university through a period of challenge and change which included reductions in government funding and calls for universities to show greater accountability for their teaching and research.
"Under Sir William, Glasgow more than rose to meet the challenges of this new era in the ways universities were expected to be run and perform.
"Without doubt, negotiating pathways and thriving through this time of pressure and transformation would not have been possible without Sir William's leadership and personal qualities."
'Immense integrity'
Sir William, who died on Wednesday, was also permanent under-secretary of state in the Scotland Office - Scotland's most senior civil servant - from 1978 to 1988.
Prof Muscatelli added: "A man of immense integrity, sense of duty, commitment to inclusive and consensual decision-making, he was trusted and commanded respect across the University community.
"Above all else, at heart, he was driven by an immense sense of affection and loyalty to the university."
Sir William's affection for Glasgow was shared by his late wife, Lady Marion Fraser, who died in 2016.
A memorial service will be held in the University Chapel at 11:00 on Saturday 24 November.