Hidden church treasures reveal forgotten Glasgow war heroine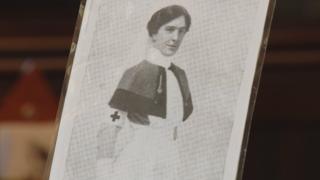 When Jacqueline Docherty and Lynne Sim decided to clear out the basement of their church on the south side of Glasgow they were in for a surprise.
The church officers found every forgotten nook and cranny in the ancient building held papers and documents which turned out to be important pieces of World War One local history.
Newlands South Church has just put some of the forgotten treasures on display.
The exhibition reveals fascinating attitudes to women who were involved in the war effort, and also reveals a mystery.
Jacqueline and Lynne uncovered cupboards and drawers full of documents dating back to 1899, including information about 32 members of the congregation who were killed during the First World War.
Jacqueline told BBC Radio's Good Morning Scotland programme: "What sparked our interest that first day was we found the little notes that had been filled in by family for their loved ones' names to go onto the war memorial.
"I can remember us sitting here in this dusty horrible basement just thinking it was really very sad and poignant and that it just wasn't the place for it to be."
But not everyone who died was commemorated on the church's war memorial.
The caretakers found information about a 32-year-old nurse called Agnes Climey.
She was not mentioned in the war memorial and this piqued Lynne and Jacqueline's interest.
She had worked at Stobhill Hospital in Glasgow before being deployed to the front line.
Agnes died in France while singing to a wounded soldier who was scared of the bombs falling around them.
Jacqueline said: "She was a field nurse. She was in a hospital tent near the front line.
"She was every bit a part of the war as the soldiers were. We even spoke to older members of the congregation and nobody knew about her. It really was something that had been forgotten. We just felt we should bring her story back."
There are now plans to unveil a plaque remembering Agnes Climey on Remembrance Sunday. The congregation is also keen to trace any descendants.
War effort
The caretakers believe that some people did want the nurse to be included on the war memorial but that discussions had ended in a decision not to.
Lynne said: "I think it was probably so typical of the time. From the little we have managed to find out so far, politically it was something that was discussed at length - whether nurses were as big a part of the war effort as the soldiers."
Another mystery uncovered was papers relating to a soldier who was not a member of the church.
Jacqueline said: "It was an honourable discharge, signed by King George V in 1919 for a Sgt John Thomson.
"We have searched and searched and searched every record and cannot find his name on anything.
"We thought why is such a valuable document not belonging to anyone in the church down here? So we have people working on tracing any relatives."
The findings were put on display in the church for Doors Open Day and local schools will be invited to see the documents in November.