Sex offender spared prison in 'cat food' neglect case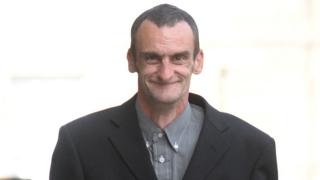 A convicted sex offender convicted of wilfully neglecting three school children has been spared jail.
Derek Carrick, 42, allowed the girls to get so hungry that one was forced to eat cat food.
Glasgow Sheriff Court heard the youngest child told how she ate the bristles from her toothbrush because there was no food.
But Sheriff Martin Jones QC imposed a "direct alternative" to a jail sentence.
Filthy and smelly
Carrick was handed a community payback order with two years' supervision. He must also complete 200 hours unpaid work within six months.
During the trial the jury heard Carrick's former home in Knightswood, Glasgow, was filthy and smelly when he looked after the girls.
The eldest girl said she was bullied at school for the way she looked and smelled, and that there was no sanitary products for her to use.
Jurors also heard the middle child used to ask to take leftover snacks home from school.
Carrick was unanimously convicted of wilfully neglecting and ill-treating the girls then 10, nine and three, between February 2011 and October 2013.
'Detrimental effect'
It emerged he had a previous conviction from 1997 of using lewd and libidinous practices toward children.
Sheriff Jones said there was no medical evidence to suggest the children suffered injury or were malnourished.
But he told Carrick: "You must accept your conduct has had some detrimental effect on their welfare."
The youngest of the three girls, now nine, gave evidence that was recorded before the trial started and played to the jury.
During it, she said the house was dirty and smelly, in particular the living room where Carrick slept.
The nine year-old said: "I would try and eat my toothbrush I was that hungry, I would take off the bristles and eat them."
'Living in poverty'
The eldest girl, now 18, rarely ate breakfast and said most of the time there was not enough to eat.
Asked what she did when there was no food, the witness replied: "There was a few occasions I ate cat food."
The girl said she mentioned this to Carrick but he said that he didn't have any money so it wasn't his fault.
Defence counsel Margaret Breslin said: "On any view this was a household that was living in poverty."
She said there was no evidence of any lasting effects on the children.