Police rule out 'black panther' theory in big cat mystery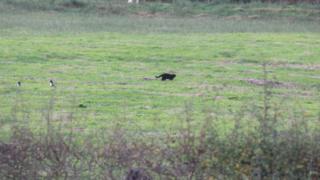 A big cat spotted by a number of residents in east Ayrshire is not a black panther, police have confirmed.
An expert has been unable to confirm what type of animal triggered a search which involved the police helicopter.
But the Scottish SPCA said pictures it has studied appear to show a "large domestic cat".
The animal was spotted about 08:45 in fields near the B730, between the villages of Drongan and Coalhall, which are popular with dog walkers.
Police initially said it was working with the SSPCA to locate the creature, which may be injured.
But the charity later said it was "unequipped" to help the force.
A police spokeswoman said: "Officers who have been investigating a number of reports of a large black cat in fields near to the B730 have been liaising with a big cat expert who does not believe that it is a black panther, however cannot yet confirm what type of animal it is.
"Inquiries are still ongoing to establish more information and members of the public are still asked to take care and not approach it if seen. "
Scottish SPCA deputy Ch Supt Tom Gatherer said, "We have had no additional reports of panther sightings in Ayrshire to our animal helpline.
"After reviewing the images, we believe it is a large domestic cat."
Alan Green owns an upholstery business which overlooks the fields where the panther sighting was reported.
He said: "I've not seen it personally but where it's supposedly been sighted is just out the back of my workshop.
"I've seen the police helicopter up and round about.
"I'm not unduly concerned. When I first heard about it I thought 'a black panther here?' but maybe it could be true."
It is understood at least one member of the public raised the alarm.