Celtic Boys Club manager 'stuffed banknotes in boy's mouth'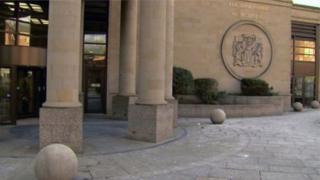 An ex-youth footballer claimed a former Celtic Boys Club manager stuffed hundreds of pound notes into his mouth while he abused him.
The witness, now 46, said James Torbett sexually assaulted him when he played for the under-14 team.
Mr Torbett, 71, denies a total of nine offences of sexual abuse committed between 1985 and 1994.
The offences are alleged to have occurred in his Mercedes and at various addresses in Glasgow, London and Noyon.
'£100 notes'
The man, who was a teenager at the time told the court Mr Torbett - who he knew as Jim - often gave him money.
He said: "Sometimes he would give you money. He would fit it into your mouth using his hand.
"One time it was £530. I remember going home with £100 notes in my pocket."
The man, who lives in the Glasgow area, also claimed that on a trip to Noyon in France with Celtic Boys Club Torbett did a" striptease" to music before abusing him.
'Striptease'
The witness, who is not being named, told prosecutor Sheena Fraser: "I was in my bed in a dormitory.
"Jim Torbett was standing there with a shirt and underpants on.
"He proceeded to do a striptease. He took his shirt off and was dancing."
The man claimed that the accused then summoned him to his room and abused him.
At times during his evidence the witness appeared upset.
Mr Torbett, from Glasgow, denies a total of nine offences of sexual abuse allegedly committed between August 1985 and August 1994.
'My hero'
Defence QC Tony Graham lodged a special defence of alibi in relation to a charge alleged to have taken place between June 1985 and June 1986.
During his evidence the man said: "Jim Torbett was my hero. I would have run through walls for him. I would have done anything he told me to do. I loved him."
The man said that he told no-one about the alleged abuse until 2015.
He added: "I had to get it out. It was killing me. I told my sister, but I swore her to secrecy."
The witness said that he also phoned Police Scotland and added: "They never came for a couple of days and I went into a huff and I told them lies."
He told the court this was because his mother was there when the police arrived.
Football trial
The witness said the alleged sexual abuse by Mr Torbett ended when he was 17 and began a relationship with a woman.
He told defence QC Tony Graham that he was only selected for Celtic Boys Club at his second attempt.
On the first occasion Jimmy "Jinky' Johnstone, who was described in court by Mr Graham as a Celtic great, got him a trial.
The witness said: "Jimmy Johnstone got me a trial for the under 12s. I did a six week trial and I was told I wasn't good enough."
On the second occasion the witness said he competed when he was 13 against 200 other boys for a place and was successful.
The trial, before judge Lord Beckett, continues.