Just what makes a film 'queer'?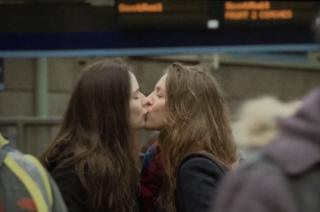 How would you define a "queer" film? Is it the presence of an LGBTQ+ character? Is it the cultural references? Does its soundtrack count?
The annual Scottish Queer International Film Festival (SQIFF) gets under way next week and aims to get people watching, talking about, and making more queer films.
Coordinator and co-founder of SQIFF, Helen Wright, explains that the definition of a queer film varies for different people.
"For me, a film is queer if it somehow counters or challenges heterosexuality," she says.
"That could be through representing LGBTQ+ characters or it could be through a stylistic approach which is somehow queer or which counters hetero-film aesthetics."
She adds: "For example, campness in films makes them queer to me, or films which don't use a linear, white hetero-male dominated storyline."
Helen explains that one of the reasons she started up SQIFF in 2015 was because there hadn't been a larger LGBTQ+ film festival in Scotland before then.
She felt that there was a lack of representation and opportunities for queer audiences to engage with film.
She says: "Representation is important, particularly because film is such a mass medium and has a large impact on the ideas that circulate in our society.
"Mainstream film culture is dominated by images and stories of white cis-hetero people including those with a narrow range of types of bodies and outlooks."
She adds: "This contributes to a society where some people have more privilege and are safer and freer than others.
"Queer representation within a film festival is especially important to offer a chance for LGBTQ+ communities to come together, feel safe and welcome, and explore art and ideas together."
Many of the queer films that will be featured at this year's SQIFF explore human identity and sexuality as being fluid and changeable, rather than fixed.
The films celebrate diversity in their own unique ways, and come from creative teams based all over the world.
Filmmaker Matthew Kennedy's animated film Enid & Valerie will be screened as part of the SQIFF Shorts: Queer Scotland strand.
He believes that what makes a film "queer" is its personal or experimental narrative that deals with LGBTQ+ issues in some way.
"This could be through various forms such as the film's subject matter, or the film's characters," he says.
"I think that queer films bring many perspectives to the forefront; whether it be gender, race, class, sexuality, or disability."
He adds: "Watching LGBTQ+ films gave me the inspiration to get out there and make my own films; to put myself in the frame and to talk about things that rarely get talked about in mainstream film culture."
'The token lesbian'
When she was younger, filmmaker Nas Saraei struggled with her sexuality.
She remembers feeling very alone in her early teenage years and appreciates the comfort that queer films provided her.
"Without them, I wouldn't have known where to start," she explains.
Whilst in high school, Nas stumbled across the film But I'm a Cheerleader, which deals with themes such as sexuality and the social construction of gender roles.
She recalls: "This film felt really special - I was so confused at the time, and it was the first film I'd ever seen that was about two girls falling in love.
"I'd never seen anything like this before and it made me feel less alone and understand it all a bit more."
Nas explains how important it is for queer films to represent a range of LGBTQ+ characters, and not just stereotypes.
"It can't just be a 2D-character so that a box is ticked, because there are young people watching it all really closely."
She says: "Young people are taking it all in and needing it so bad to grow and feel themselves.
"I always hated just seeing butch girls cast as the token lesbian on TV shows and it was just a fleeting forgettable storyline."
Nas' short film HEARTS will also be screened as part of SQIFF Shorts: Queer Scotland.
The film deals with the protagonist Sarah's heartbreak after losing the girl that she thought was "the one".
HEARTS deals with themes that are very important to Nas, as she believes that there are a complete lack of films about lesbians.
She explains: "I still feel like most of the mainstream gay films are about men.
"Although, I think it was a huge step for the mainstream film industry when Love, Simon was released.
"I hope it can finally happen about a girl one day soon."
She adds: "It's 2018 and the lesbians are still rewatching But I'm a Cheerleader from 1999, Sugar Rush from 2005, and The L Word, which aired from 2004 to 2009.
"Yes; they're classic, but we need more classics."
'Anti-climatic outing'
Ross Wilcock is a disabled LGBTQ+ filmmaker and did not come out as gay until he was 22 years-old.
He says: "Growing up, I knew I was gay.
"It was hard knowing and keeping it to myself."
He continues: "When I finally came out, it was actually quite anti-climatic.
"I had expected all this drama, but my friends were really accepting and a lot of them suspected it anyway.
"Coming out really wasn't as bad as I imagined - not like some of the horror stories that you hear."
Ross believes that queer films act as a source of comfort for those who are struggling to come to terms with their sexuality.
He says: "The film Love, Simon is about how coming out isn't and shouldn't be as tough as it once was.
"Having LGBTQ+ films that feature actors who are well recognised in the industry is so important and empowering.
"I just hope that as more films like these are released, the less people will fear coming out."
SQIFF will be returning to the CCA venue in Glasgow, and will run from Wednesday 5 December - Sunday 9 December.