New £21m hospice opens in Glasgow's Bellahouston Park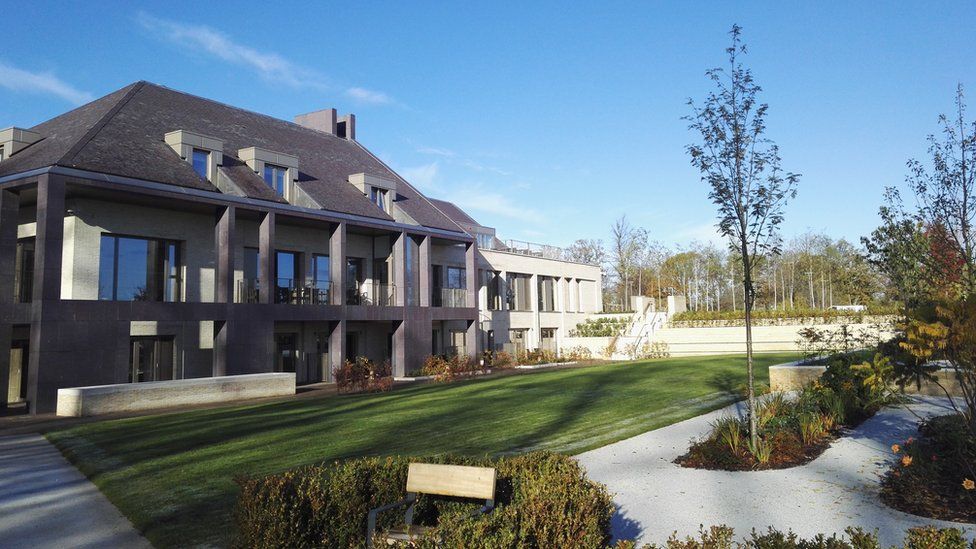 The brand new £21m Prince and Princess of Wales palliative care hospice has opened in Glasgow's Bellahouston Park.
The Scandinavian-inspired hospice will be the first in the UK to follow the Sengetun model of care.
The idea aims to offer patients quality of life in a place that looks and feels like home, with open spaces, family rooms and private areas.
The new design also better provides accommodation for patients as young as 16 years old.
The building, which is a product of eight years of planning and construction, will provide palliative care to patients, putting comfort at the forefront of the design.
The Sengetun model has been used due to its ability to allow patients to feel at home in a bright, open space, which also allows them privacy when required, with clinical and medical assistance sitting firmly in the background.
The goal of the Prince and Princess of Wales Hospice has always been that "where it may not be possible to add days to lives, we aim to add life to days".
Before the centre in Bellahouston opened, Glasgow's Prince and Princess of Wales Hospice was originally located in Carlton Place.
It was credited with providing exceptional care and comfort for many years.
Tracey Smith's mother stayed at Carlton Place, and she recalled her mother's fond memories of her stay.
She told BBC Scotland: "When we arrived through the door my mum just said to me - 'this is like heaven being here'.
"The staff and the wards made you feel really welcome; nothing was ever a problem and you could contact them at any time."
While the Carlton Place hospice provided excellent care for a wide range of people, it was not designed with young adults in mind.
The architecture of the new hospice at Bellahouston Park now allows for palliative care of people as young as 16.
The building houses state-of-the-art facilities that cater especially for young people, including a sensory room and young people's lounge.
The hospice also has family bedrooms where people can stay and be close to their loved ones, along with large kitchens that allow those staying and visiting to eat together with their families.
Alastair Forbes, the architect from Ryder Architecture involved in designing the building, said: "We are just really proud of the building, it's a fantastic achievement for the Prince and Princess of Wales Hospice and the project team.
"It's based on a different layout - a Sengetun model, which is the first time this Scandinavian ward layout has been realised in the UK.
"The whole design has been focused around dignity for patients and their families, and the volunteers and staff here, and the key driver through the design was patient choice.
"That patient has a choice and control over their environment... from wherever they are sitting around the hospice."
Architecture and art have been consciously designed as an integrated part of the new hospice.
The Sengetun model understands that patients need security, a calm environment and a boost from life-giving elements that stimulate positive feelings.
The model is based on research that suggests that the aesthetic design of a healthcare facility has a measurable impact on patients' wellbeing.
Brian Heaney is someone else who has had experience of the care provided by the hospice staff - his wife Isabel moved into Carlton Place in late December 2016.
Brian said: "During that brief period, it was absolutely fantastic - the care, the consideration, the treatment, everything.
"The hospice have a way of looking back, they look to the present and they look to the future."
He added: "Carlton Place to me was a wonderful place and it's close to me, as it will be to many members of the staff, and it was wonderful.
"But coming to Bellahouston now is going to be absolutely fantastic."