Glasgow city leader talks of 'massive cost' of pay row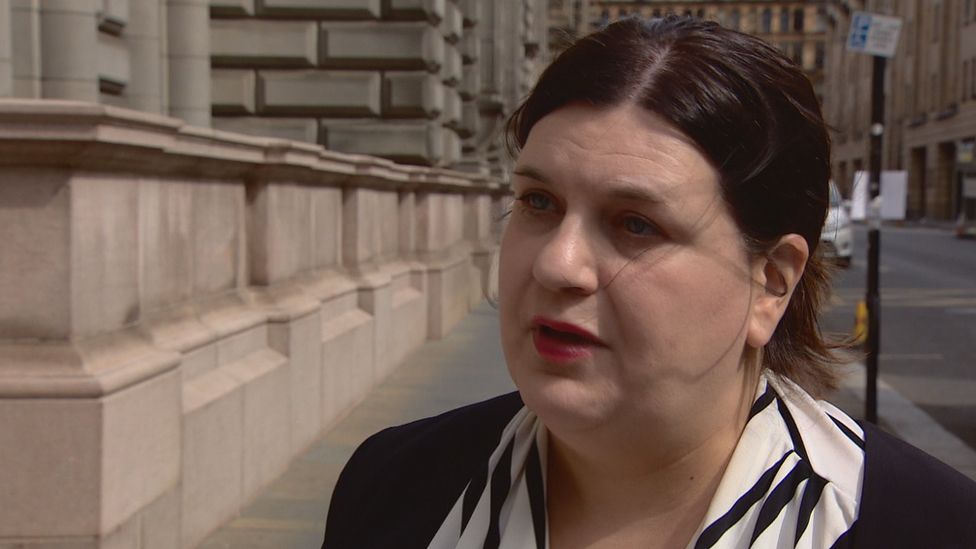 The leader of Glasgow City Council has said the cost of settling the equal pay dispute will run into "hundreds of millions of pounds".
The comment is further than the current SNP leadership has previously gone publicly in setting out a cost.
Talks to reach an agreement with unions are scheduled to resume after a 48-hour strike last week by about 8,000 staff.
Ms Aikten said the solution to the dispute would come at a "massive cost" but ruled out a bail-out by ministers.
She did not put an exact figure on the costs and has previously dismissed figures of between £500m and £1bn as being "plucked out of thin air".
She did, however, admit the settlement would be extremely high.
The council is looking at refinancing its existing debt, with officials "working hard on a financial strategy", she said.
While direct cuts to services are not anticipated the cost of financing loans may have implications for budgets down the line, the BBC understands.
She blamed previous Labour administrations for creating "new and complex pay structures which favoured predominantly male roles".
She said it remained her priority to reach a solution to the dispute, and December remains a target for an agreement, she said.
Ms Aitken said then the council was seeking to minimise the impact of jobs and services and ruled out selling off assets like Birmingham City Council did in 2013 when it was landed with a £1bn equal pay bill.
She specifically ruled out any consideration of the sale of the Salvador Dali masterpiece Christ of St John of the Cross, which hangs in the Kelvingrove Art Gallery & Museum.
Last week hundreds of schools were shut and home care services affected in Glasgow as council workers staged one of the UK's biggest strikes over equal pay.
More than 8,000 members of the Unison and GMB unions took part in the two-day walkout.
In her article at the weekend, Ms Aitken wrote: "Make no mistake, the decision and adherence to a discriminatory pay scheme by Labour comes at a massive cost.
"This is where the discrimination lay and it will cost the city hundreds of millions of pounds to resolve.
"We are working hard on a financial strategy which will allow us to meet the cost and as part of that we are having technical discussions with civil servants."
'Difficult for the council'
She said any suggestion that the SNP government would step in to cover the cost of the pay dispute had been ruled out.
She said: "I have also discussed this with the Scottish government's finance secretary.
"My view is that the Scottish government does not have the resources to deal with this issue and, frankly, not should it do so.
"I have never thought it was credible, or in any way responsible, for Glasgow City Council to insist that people across Scotland pay the price for an issue that is entirely of Glasgow City Council's making."
She added: "Justice comes with a price and the solution to this might be difficult for the council, but that should not be used as an excuse for allowing inequality to continue."