Orange Order told to re-route Remembrance Day parade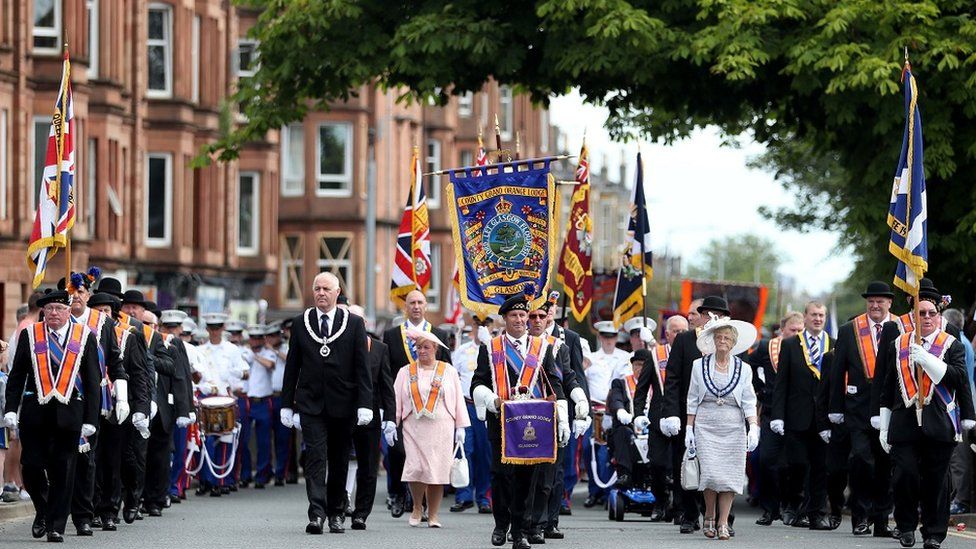 Orange marchers have been told to re-route a Remembrance Day parade away from a Catholic church in Glasgow's east end amid fears of violent clashes.
Glasgow City Council's public processions committee told organisers they must avoid St Mary's Church in Calton.
The move follows an alleged attack on parish priest Canon Tom White in July.
The Orange Order's County Grandmaster Eddie McGonnell criticised the ruling on the 11 November event.
The Dalmarnock Orange and Purple District No.50 band could still be faced with a counter protest as the new route will take marchers past St Michael's Catholic Church on the Gallowgate.
A campaign group has refused to rule out a protest outside that church after Police Scotland confirmed it won't seek a second re-route of the march.
Supt John McBride said 100 specialist public order officers would be deployed - five times that of any other parades in the city on the same day - if the marchers were to parade past St Mary's.
The senior officer said there had been no indication that there would be a counter protest outside St Michael's Church.
But it is understood members of Call It Out were unaware of the plans to take the march past the church and a protest could now go ahead there during the march.
A spokeswoman for the group said: "They (Orange Order) shouldn't be walking past Catholic churches."
Three planned parades past St Alphonsus' Church - where Canon White was allegedly attacked during the annual Boyne march - have been diverted since August after Call It Out informed police of their intention to protest.
A 24-year-old man appeared in court accused of an assault on Canon White, aggravated by religious prejudice.
The Orange Order's County Grandmaster Eddie McGonnell claimed that the attack on Canon Tom White had been "inflated out of all proportion".
Mr McGonnell added: "We're not convinced diverting us away from St Mary's and St Alphonsus' Churches is a temporary measure.
"We've got a deeply held concern that it may be the case that the Catholic Archdiocese of Glasgow has a veto on these parades.
"It's happening at St Mary's where there was no incident. We feel this is a slippery slope."
The marchers had initially planned on walking down Abercromby Street past St Mary's but they will now walk from the Gallowgate, down Fielden Street, on to Crownpoint Road and on to Abercromby Street, missing out the church altogether.
They will attend two Remembrance services, at Calton Parkhead Parish Church and then at Glasgow Green to commemorate those who gave their lives in World War One.