Stranraer rail service back in service after two months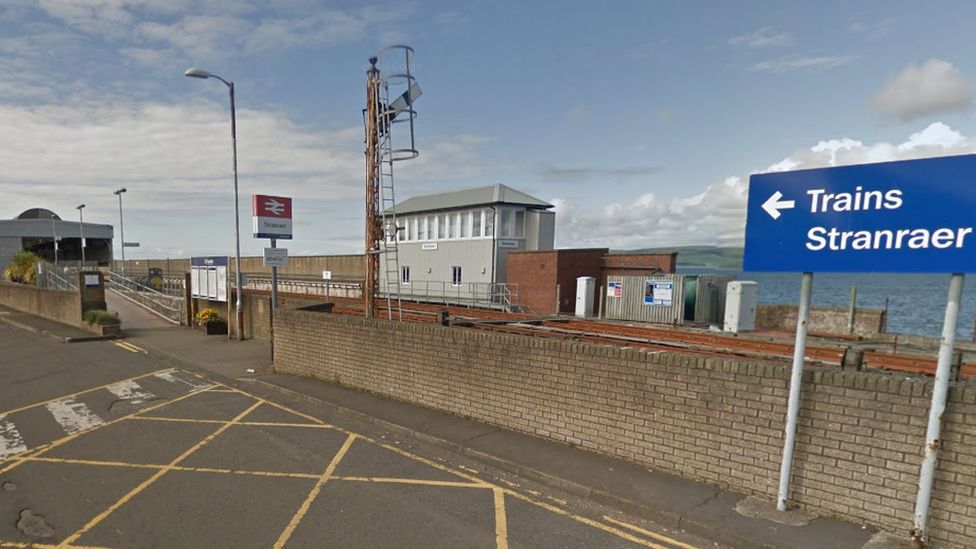 Trains are running between Stranraer and Ayr for the first time in two months after the service was suspended over safety concerns.
The service has been cancelled since August when a former hotel next to Ayr station was deemed to be unsafe.
ScotRail said it was reintroducing limited services from Thursday, with the 16:59 Stranraer-Glasgow service.
However, South Ayrshire Council said the move would lead to delays to work to make the former Station Hotel safe.
ScotRail said the services were introduced following work by Network Rail engineers, including a risk assessment and changes to railway infrastructure.
The route - which includes Maybole, Girvan and Barrhill - was also tested on Thursday morning.
A spokesman said the rail firm would not restore all services but it would be a "significant improvement".
The services due to run on Thursday are:
The 16.59 Stranraer-Glasgow Central and the 18.13 Glasgow Central-Stranraer services.
On Friday, the following services will operate:
07.00 Stranraer - Glasgow Central
08.08 Glasgow Central - Stranraer
16.59 Stranraer - Glasgow Central
18.13 Glasgow Central - Stranraer
Bus services will continue to operate between Ayr and Stranraer for the train services that have not been reintroduced.
Alex Hynes, ScotRail Alliance managing director, said: "We know it has been a challenging time for our customers, so we are pleased to be able to restore some services between Ayr and Stranraer.
"We are working flat out with South Ayrshire Council and our task force partners to get all services to and from Ayr back to normal as soon as possible."
Meanwhile, South Ayrshire Council said design work to complete the erection of scaffolding around the former Station Hotel had been agreed.
It had been expected that the work would be completed in early December but a council spokeswoman said this timetable could be delayed.
"We know the reintroduction of rail services south of Ayr will restrict the times when work can be undertaken, extending and delaying the timescale for the completion of these works," she said.
"We can't estimate the full impact of this until we know what services will be running on this section of the line. A further update will be provided when this information is available."