'Street in the sky' bridge planned for M8 at Sighthill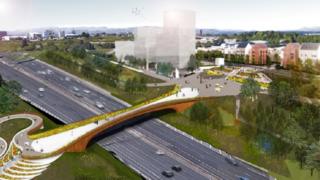 A new pedestrian bridge over the M8 at Sighthill will breath new life into the area, according to Glasgow City Council.
Plans are about to be submitted which would see the so-called "street in the sky" built, replacing an existing bridge which the council says is "not fit for purpose".
It is part of a £250m project to regenerate the area.
There are also plans to build civic spaces either side of the motorway.
The council has said the new bridge will be a landmark project in the regeneration scheme, which they say is the biggest in the UK outside London.
Construction should start in mid-2019, with completion expected by Summer 2020. The bridge span will be just over 58m (191ft), and its width varies between 20m - 7.5m (66ft - 25ft).
The council claims the structure will require minimal maintenance and will emphasise key views across the city skyline while obscuring direct lines of sight to the motorway below.
Council leader Susan Aitken said: "This new bridge will form a gateway to both Sighthill and the city centre. For far too long, neighbourhoods just on the periphery of the city centre have been forgotten or abandoned.
She added that the "regeneration will deliver a new neighbourhood within a short walking or cycling distance from the city centre, creating new communities along the Canal Corridor and delivering for the people and economy in the north of Glasgow."
The Sighthill Transformational Regeneration Area consists of 50 hectares of land, much of which was contaminated by historical heavy industry.
Almost 1,000 new homes are being built, with plans for a new community campus school, and a new road bridge over the Glasgow-Edinburgh railway line.
There will also be a new public square, with shops, and Sighthill will be reconnected to the Forth and Clyde canal at the Pinkston basin.