Woman sought following stabbing at Ailsa Hospital in Ayr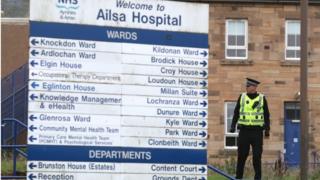 Police say they are seeking a woman in connection with a stabbing in the grounds of a hospital in Ayr.
A female community support worker, 42, is being treated for serious injuries, which are not life-threatening.
A woman has been arrested on what police described as an unrelated matter but she is said to be "a person of interest in the inquiry".
Detectives said the site at Ailsa Hospital was no longer on a security lockdown.
They are asking for the public's help to find a woman who was seen leaving the area shortly after the incident. She was wearing a dark woolly hat and a dark jacket.
Supt Brian Shaw said: "I am urging anyone who witnessed the attack to get in touch with us. I am particularly keen to hear from anyone who was in the area around 10.00am and has information about a woman who was seen leaving the area shortly after the 42-year-old woman was stabbed."
The woman is described as being about 5ft 2in to 5ft 3in tall, of slight build with a pale complexion. She was wearing a dark woolly hat and a dark jacket.
Supt Shaw confirmed the victim had received treatment in hospital and was now "sitting up in bed and speaking with detectives".
He said: "She doesn't have any life-threatening injuries, but obviously this has been a very traumatic time for her."
He said the hospital was now open as normal, but there were "increased high-visibility patrols in the area to reassure patients, staff and the wider public."
Police officers are checking CCTV and carrying out door-to-door inquiries in an effort to find the woman. Earlier, the police helicopter was being used.
NHS Ayrshire and Arran initially said no members of staff, patients or visitors would be allowed to leave the site. The lockdown was lifted at 13:00, however a car park in front of Addiction Services remains closed.
The local MSP, John Scott, told Holyrood during First Minister's Questions that a nurse had been stabbed by a patient.
First Minister Nicola Sturgeon said: "The health secretary has been able to advise me and our understanding is, let me stress this is our understanding, that injuries sustained by a nurse are not life-threatening.
"The police are fully involved in this because, obviously, the safety of staff and patients are of the utmost importance and will be driving everything that is being done."
In a statement, the Royal College of Nursing said: "Our thoughts are with the nurse and her family and colleagues. The safety of patients and staff must be the priority at this time."