Gang produced 1.6 million fake tablets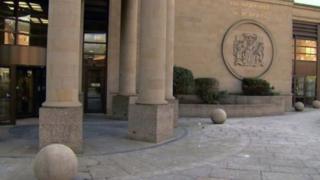 A drugs gang who produced more than 1,600,000 fake valium tablets in a back-street garage in Paisley have been remanded in custody.
Scott McGaw and Eric Reid were convicted at the High Court in Glasgow of producing the drug Etizolam.
Police who raided the garage found pills with a maximum street value of £1.676m.
Harry Ingle and Nicholas Conway previously admitted producing and supplying the drug respectively.
The four men will be sentenced in December.
A trial was told that Ingle, 40, from Reading, Berkshire, and Conway, 45, from London, were found at the premises wearing forensic suits which were covered in blue dust, and initially claimed they were cleaners.
The court heard that McGaw, 33, provided the money to set up the operation and Reid, 45, rented the premises and organised the delivery of materials.
'Biggest production'
Det Con Greig Baxter told the trial: "This was the biggest production of Etizolam I've ever attended.
"I know of no-one who has come across a pill press operation as large as this in the UK."
The jury was shown a video of the police search of the premises which showed the pill press in operation.
The court heard that it took a fork lift truck and a team of firefighters to remove the press from the garage.
All four men were remanded in custody ahead of sentencing.