Watchdog says police response to gun caller was 'justified'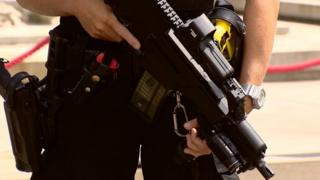 A watchdog has said police were justified in sending armed teams to a 999 call that claimed a man had a gun.
A woman rang 999 to say a man had held a gun to her head, but police failed to pass on that she had later referred to the weapon as a "water pistol".
Several people were removed from the flat in Glasgow at gunpoint on Sunday 15 April and a man was arrested.
The woman was charged with making a false gun report and later convicted of assault and vandalism offences.
The Police Investigations & Review Commissioner investigated the circumstances of the call and the police response.
The police operation began at about 09:30 when the woman called 999 to report that a man had threatened her with a handgun.
The call was disconnected and when a police officer in the area control room called her back, she said she had had a disagreement with a man visiting her neighbour and he had pointed a handgun at her head.
She described the "gun" as a black revolver containing silver bullets and added that the man had gone into her neighbour's flat.
'Water pistol'
At one point she referred to the "gun" as a water pistol, and when asked if the item was a water pistol she stated that she did not know what it was, but that it had bullets in it.
Five minutes later, the police received a 999 call from the neighbour, who reported a disturbance outside the flat involving the woman caller.
The control linked this second call to the firearms incident.
A police commander instructed firearms officers to make contact with those in the flat and trace the man who had allegedly pointed the gun at the woman.
It was later suspected that the woman had made a false report of being threatened with a gun.
She was charged with this and other offences and later convicted of assault and vandalism offences.
The man arrested from the flat was released from police custody without charge.
Justified and proportionate
The PIRC report concluded the use of firearms officers was justified and proportionate.
However, it was found that when the police called the woman back, they failed to record that she also referred to the gun as a water pistol.
The report also found that the ITFC was not told about several incidents involving the woman at the scene earlier that morning.
These included an allegation of assault, for which she had been arrested some three hours earlier.
Police Scotland are recommended to put systems in place to ensure that commanders are given all the relevant facts when dealing with firearms incidents.
Officers should also be reminded to record all relevant information, justifying the use of firearms, the report said.