Oil workers flown to safety during storm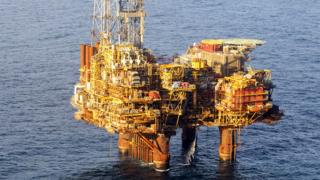 More than 130 oil workers were flown to safety after a North Sea platform lost power during Storm Diana.
Shell's Brent Charlie, 115 miles (185km) off Shetland, was undergoing maintenance on Tuesday evening.
With weather warnings in place for the rest of the week, a coastguard helicopter helped transfer 135 people to the Brent Alpha and Bravo platforms.
A yellow weather warning for wind was in place in the Scottish Borders, Highlands and northern isles.
A Shell spokesman said on Thursday: "We lost power supply on the Brent Charlie platform.
"Working with the coastguard we removed all non-essential personnel to nearby platforms. Power has been restored and personnel will be returned at the earliest opportunity.
"Safety and the welfare of our workforce is our number one priority."
Meanwhile a series of yellow warnings for rain have been in place across large parts of Scotland.
The latest is in force in southern and central areas until 14:00.
Coastal roads on the Isle of Arran were left inaccessible on Wednesday due to strong winds and high tides.
Queues of traffic were seen on the road south of Corrie while water on some stretches was reported as knee deep.
The Met office warned commuters should expect some delays to public transport and delays for high-sided vehicles on exposed routes and bridges.
Short term loss of power and other services is possible.
Diana is not on the list of the Met Office's official storm names for this winter, and originated further south.
Met Office spokesman Richard Miles said the storm, named by the Portuguese authorities, "had quite an impact on islands in the Atlantic", but had weakened as it travelled towards the UK.
He explained: "By the time it got to us it would not meet the criteria for us to name it."
The last Met Office named storm was Callum, which battered parts of the UK in mid-October. The next name to be used will be Deirdre.