Glasgow transport needs 'radical' overhaul, say experts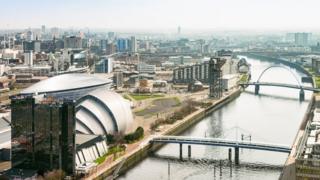 Glasgow city centre and its transport links are in need of a radical overhaul, according to experts.
They recommend that pedestrians should be prioritised and vehicle numbers reduced on city centre roads.
The Glasgow Connectivity Commission also wants to see bus services improved as a priority, after discovering that low income bus passengers are hit hardest by transport problems.
The proposals would be the biggest changes to the cityscape in 50 years.
The commission says Glasgow's residents do not have fair access to the city's opportunities because of transport issues.
They blame Glasgow's high proportion of roads in the city centre, low urban population density and "denuded" public spaces.
Some of the measures the commission has proposed to help communities suffering from "transport isolation" include:
A repurposing of the city centre road network to prioritise pedestrians and people-friendly public spaces
Introduce a "smart grid" system to separate different modes of transport
Greater use of car parks and bus terminals to reduce the number of vehicles in the city centre
Prioritise, improve and regulate bus services
Give councils the power to hand out parking charges for workplace and retail parking
Review whether council workers should be given free or subsidised car parking
Make areas like George Square, Argyle Street, Cathedral Street and the High Street more attractive and people-friendly through the Avenues project
Bus passengers 'neglected'
The group aims to drive bus passenger growth by 25% over five years as they say patronage has declined by 40% over a decade .
It is estimated it would cost £300 million over three years to improve bus services - a relatively small figure according to commission chair Prof David Begg.
The transport expert told BBC Radio Scotland's Good Morning Scotland that bus passengers have become "neglected".
He continued: "They tend not to have a voice, they tend to be people on lower incomes, they're not really represented as well as they should.
"The cost to tackle the problem with bus use in not that great. In turn bus operators would invest in the fleet, provide better ticketing, cheaper ticketing and half price fares for under 19-year-olds.
"Trust me, if we'd experienced such a deterioration in rail travel or if motorists were suffering as much as bus passengers this would be headline news most days."
Prof Begg also highlighted how the city is still "trying to recover" from the planning decision to bisect the city centre with the M8.
He added: "It's the pedestrian environment that dramatically needs to improve in Glasgow.
"Glasgow has got more roads than any other city in the UK, much more even than Birmingham."
Six months to take action
The commission was established by Glasgow City Council leader Susan Aitken.
It published a report on Thursday, the first of two containing recommendations aimed at addressing Glasgow's transport problems.
A second report will be published early next year which will address other issues including development of the rail network, strategic road network and governance of transport planning.
Professor Begg has now asked the council to announce how it will take action within six months.
He said: "Glasgow is a great European city and the economic powerhouse of Scotland. But not all of its citizens are connected to the opportunities the city provides - which is placing a barrier on its growth potential.
"And its streets, particularly in the city centre, do not offer an experience worthy of a great European city, the consequence of decades of planning decisions which have prioritised car use of pedestrians and denuded its public spaces.
"The recommendations included in this report offer an opportunity to radically transform Glasgow's city centre - ensuring it becomes an attractive place to live, work, visit and invest - while better connecting all its citizens so as to deliver inclusive growth.
"We have built on the very positive work already being undertaken by Glasgow City Council such as the Avenues project, Low Emission Zone, cycling schemes and recently formed bus partnership. But an incremental approach to these is not enough. Now is the time for radical action."
Councillor Susan Aitken said: "I am confident that in the longer term the city will eventually see significant benefits flowing from the findings made by the commission."