Two officers hurt in crash with stolen Porsche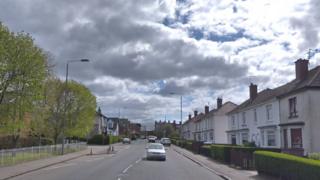 Two police officers have been injured in a road accident in Glasgow after their police vehicle collided with a stolen Porsche.
The men were treated at Queen Elizabeth Hospital following the crash in Fulton Street at about 00:10 on Thursday.
The occupants of the Porsche were also taken to hospital where they were treated for minor injuries.
A 26-year-old man and 22-year-old woman have been arrested in connection with the incident.
The crash happened several hours after police received reports that a woman had been threatened and robbed of her car keys in Hyndland.
Her Porsche Macan was reported stolen at 18:30 on Wednesday and a number of further incidents involving the vehicle were reported to the police.
Extensive inquiries and searches were carried out, including using the force helicopter, before the crash.
The police officers, who were driving a marked Audi, were treated for minor injuries.
The matter will be referred to the Police Investigations and Review Commissioner (PIRC).