Murder detectives return to scene of Glasgow crime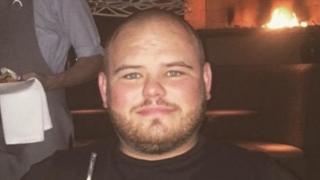 Detectives investigating a murder in Glasgow have returned to the area where the victim was found seriously injured exactly two weeks ago.
They hoped to jog the memories of members of the public who may have had vital information about the death of Billyjoe Bates.
The 28-year-old died four days after he was found badly hurt in Ashgill Road, Milton at 14:30 on Sunday 18 November.
Police said Mr Bates' friends and family were "completely devastated".
Plain clothes and uniform officers were in Ashgill Road between 12:00 and 16:00.
They wanted to speak to pedestrians and motorists who could help them piece together the circumstances surrounding the murder.
Det Ch Insp Suzie Chow said: "The friends and family of Mr Bates have been left completely devastated by his murder and we are appealing for the community of Milton to support us in finding out what happened to him and why."
Speaking ahead of the operation, she said she hoped members of the public might be able to remember something they saw or heard "which seemed out of the ordinary".
"Even the slightest detail could be important in helping us get to the bottom of this murder investigation and provide answers for the family of Mr Bates," she added.