Hairdressers threatened in salon Taser raid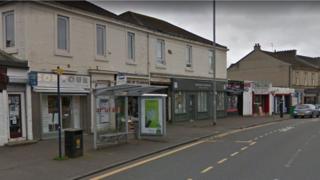 Two men armed with Taser-style weapons have robbed a hairdressers in Glasgow.
Police said the armed men entered Contour Hairdressers in Main Street, Baillieston, at about 16:45 on Friday and threatened four female staff and demanded money.
The men stole several mobile phones and a staff member's handbag.
Detectives said the women were left very distressed but otherwise uninjured. Police are now analysing CCTV and have appealed for witnesses.
Teeth missing
The first suspect is described as being white, with a gaunt appearance and had several teeth missing.
He is thought to have been aged in his late 30s or early 40s and was about 5ft 5in tall with a slim build. He was wearing a dark hooded top and navy tracksuit trousers.
The second suspect has also been described as white, with a gaunt appearance, aged in late 30s and about 5ft 5in tall. He was wearing a dark top and dark trousers. Both suspects were wearing gloves.
PC Holly Canning said: "It's clear the men's intention in this instance was to steal the shop's takings.
"All the women within the salon have been left badly shaken by this incident.
"I would appeal to people who were in Main Street yesterday around the time of the incident. This is a busy shopping area and I know people will have been out and about and I'm sure the two men will have been noticed as they left the shop and ran off up Main Street."