Glasgow's LGBT book shop a 'wonderful success'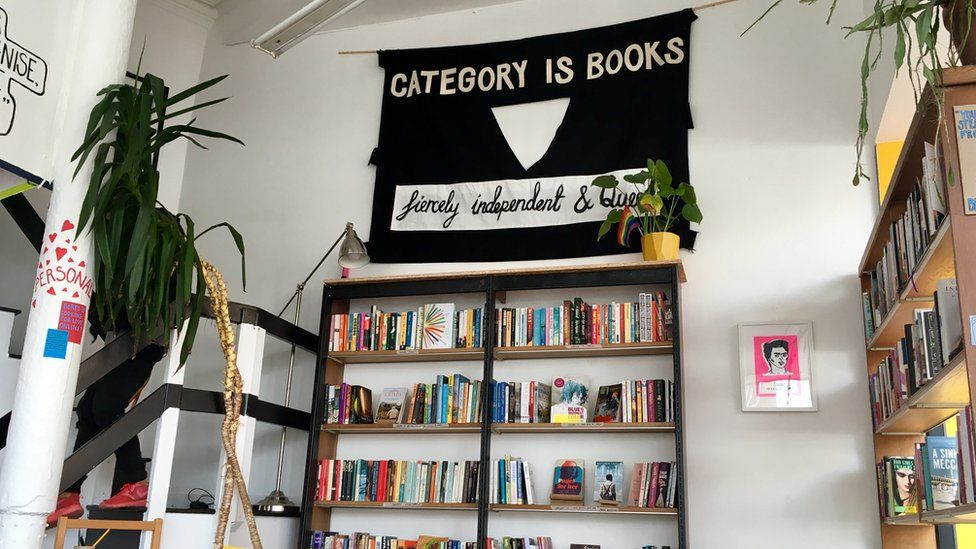 The owners of an LGBT book shop in Glasgow say they could not have imagined how successful it has been.
Category Is Books, on the city's Allison Street, opened three months ago and is Scotland's first LGBT bookshop in more than 20 years.
Charlotte and Fi Duffy-Scott said they wanted to open the shop because neither of them had been to an LGBT book shop.
It has had customers from Scotland and further afield, and regularly sells out of some books.
Fi Duffy-Scott said: "We love books, we love exploring queer culture and our queer history."
The magic of the book shop in the Govanhill area was "being able to browse in a way that is safe and exciting and you're not going to come across something that's accidentally transphobic", she added.
Every book in the shop has a queer character, queer narrative or is written by someone from the LGBT community.
Ursula Le Guin's the Left Hand of Darkness and Queer: A Graphic History, a graphic novel, have proved to be in high demand.
Over Christmas, two of the best sellers were printed by local independent presses - Queering the Map of Glasgow and Callie Gardner's book of poetry, Naturally It Is Not.
Charlotte Duffy-Scott, who prefers the pronouns they/them and the non-binary honorific "Mx", said the fact that all the books were queer-friendly made it a safe place for LGBT readers to browse.
They said: "As you're browsing it makes it much more exciting to know that all those stories are for you and that you can really enjoy them."
They "couldn't have imagined quite how busy it's been and how wonderful it's been. We've sold out of books on regular occasions", Mx Duffy-Scott added.
But the shop's success has not been limited to book sales. It has already been a space for the local community to come together - with the space being used as a Trans-friendly pop-up barber shop and other LGBT events.
Fi Duffy-Scott said the shop had received lots of visitors: "We have so many people coming in each day. Sometimes when we turn up to work there's people outside the door before we even unlock it. They're really keen - it's really wonderful.
The pair said they are still learning the business of book selling, and they were grateful for the help of other independent book sellers, including the UK's only other LGBT book seller - Gay is the Word in London.
Mx Duffy-Scott said: "The success of the shop proves there's a market for queer books".
Related Internet Links
The BBC is not responsible for the content of external sites.