'Appalling' conditions for climber rescue in Cairngorms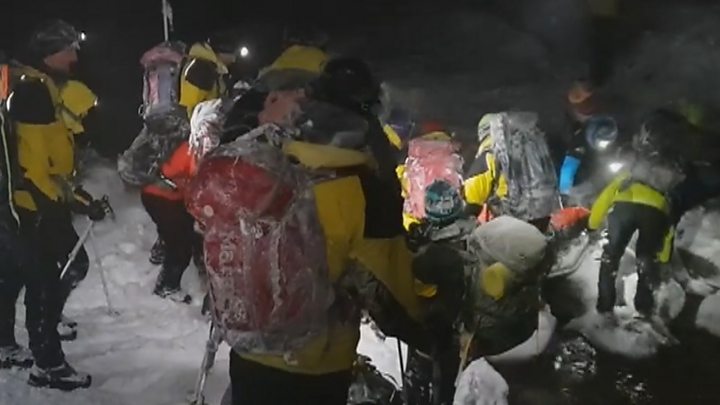 A climber has been rescued from a mountain in the Cairngorms in "appalling" weather conditions.
The man, who was climbing alone on the Cairngorm plateau near Ben Macdui, raised the alarm using a personal locater beacon at about 14:30 on Sunday.
Visibility was poor and high winds hampered the search.
At 21:44 Cairngorm Mountain Rescue Team said the man had been airlifted to Raigmore Hospital in Inverness.
He is understood to have back and leg injuries, which are not thought to be life-threatening.
The rescuers said the evacuation was "protracted given the weather conditions".
Teams from Cairngorm, Braemar, Aberdeen, Glenmore Lodge and Police Scotland were involved in the operation along with a Coastguard rescue helicopter.
Braemar MRT said on Twitter that the weather conditions were "appalling".
The Met Office had earlier forecast up to 15cm (6in) of fresh snow on high ground in the north of Scotland.
Personal locater beacon
Willie Anderson, from Cairngorm Mountain Rescue, told BBC Radio's Good Morning Scotland programme: "He set off a personal locater beacon saying he was in trouble, it was freezing, he was quite hypothermic and he'd injured his back and leg.
"The message from that goes to America then it comes back to this country."
Mr Anderson said it was a difficult operation, particularly in the early stages.
"It was the wind that was causing the problem," he said. "It was making the team members struggle just to get to the location. The aircraft couldn't really get much above the car park level at Cairngorm.
"But we managed to locate him and got him treated by doctors. The best we could do was put him on a stretcher and drag him through the snow back to the car park.
"Without the beacon he would have been in real difficulty. He sent a few messages with that and then the messages eventually became more garbled and we couldn't really understand what he was saying, so that caused a bit of concern."