Boy 'permanently scarred' in Kelvingrove Park attack in Glasgow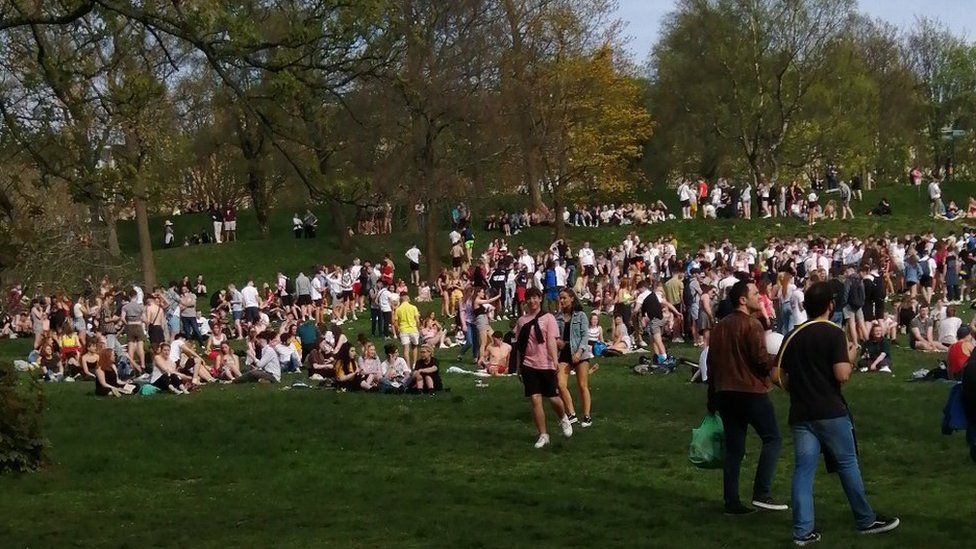 A teenage boy has been left "permanently scarred" after being attacked in Glasgow's Kelvingrove Park.
The incident was one of a number at the park on Friday as hundreds flocked to the area to enjoy the good weather.
The 16-year-old boy was with a girl, also 16, near the entrance to Kelvin Way at 20:00 when they were approached by a group of teenagers.
One of the group started attacking the pair and the boy sustained a number of injuries to his face.
He was treated at the city's Queen Elizabeth University Hospital.
Police have appealed for information about a boy on a bike, who was involved in the exchange.
He is described as being about 15 years old, about 5ft 5in tall, with a slim build and short, shaved blonde hair.
He was wearing shorts and t-shirt and was riding a black BMX bike. Officers are also looking to identify the other members of the group who were with him.
Det Con Stephen Palmer said: "This attack has left a teenager with a serious injury, which will leave him permanently scarred. Violence will not be tolerated in our communities and it is vital that we find the person responsible for this.
"At this time we do not know exactly why this altercation took place and we are appealing for anyone who knows anything about it to get in touch with police.
"There is a playpark near to where this incident took place which people would have been using at the time. Somebody must have seen something."
Four people were arrested and two other teenagers taken to hospital for cuts and concussion after disorder broke out at the park on Friday afternoon.
Police said four teenagers, including a 17-year-old boy, a boy and girl aged 15, and a 14-year-old boy, were all arrested and charged with public order offences.
The 17-year-old boy was also charged with assault.
Police were called to Kelvingrove Park in Glasgow city centre at about 16:30 on Friday after trouble flared between groups of youths.
Photographs on social media showed police vehicles and horses in attendance.