Further Glasgow Airport strike action planned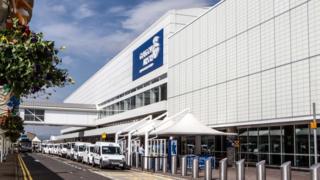 Further strike action has been announced at one of Scotland's busiest airports.
Two 12-hour strikes have already been announced for Glasgow Airport on 7 and 10 June as part of a long-running row over pay and pensions.
And now the Unite union has announced a further four-hour stoppage, which will take place on 14 June.
The airport's owner, AGS Airports Ltd, described the move as "extremely disappointing".
The union said it had added the extra strike after claiming Glasgow Airport walked away from negotiations in what it described as a "bewildering" move.
It also claimed that AGS's decision to close the final salary pension scheme for airport workers broke an Advisory, Conciliation and Arbitration Service (Acas) agreement that was made in 2016.
'Significant improvement'
A spokesman for AGS said that there continued to be "no willingness whatsoever on the part of Unite to engage in any constructive dialogue".
He said: "We made a significant improvement on our initial pay offer, which was increased from 1.8% to 3% in line with demands.
"This was rejected by Unite without any further consultation with members and the union continues to deny them the right to make a decision on the offer of 3%.
"In regards to our final salary pension scheme, it is simply unaffordable with the cost to the company due to rise to 24.7% per employee.
"We tabled a generous compensation package for the remaining members, which again was rejected by Unite without first consulting its members."
The spokesman added that "robust contingency plans" would be in place to ensure that it would be "business as usual" at Glasgow Airport on the strike dates.