Six ways to tackle Scotland's drugs crisis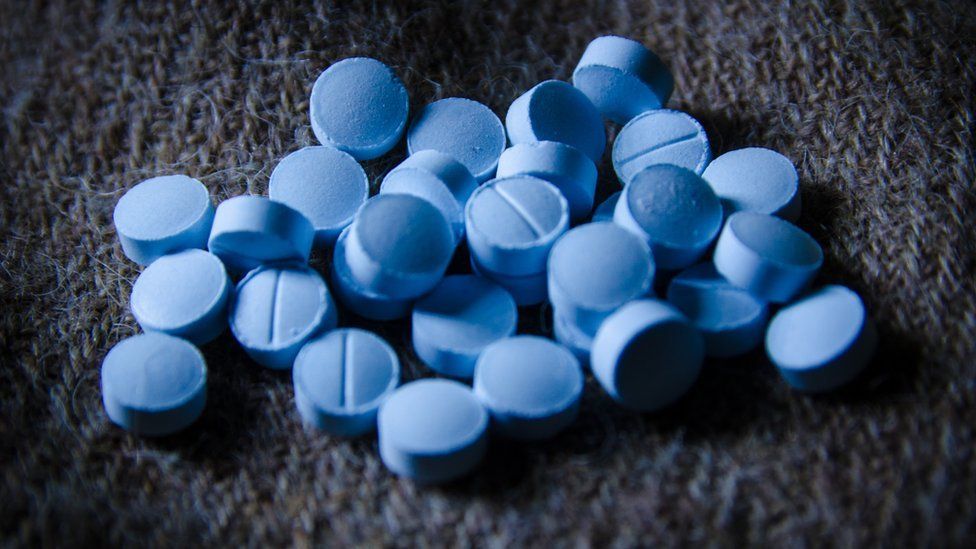 Scotland's latest drug death figures are to be published on Friday - with the country expected to still have the highest rate in Europe.
Public health minister Joe FitzPatrick lost his job after figures released last year showed that 1,264 people died in 2019, which was even worse than the year before.
In January, First Minister Nicola Sturgeon announced £250m in extra funding over five years to tackle the rising number of fatalities after admitting that her government should have done more.
But almost three years after the deaths were declared a public health emergency, what can be done to tackle the problem?
1. More residential rehabilitation beds
Opposition parties have accused the Scottish government of cutting rehab programmes in previous years, which they say has had a big part to play in the recent upward trend in the number of deaths.
There are currently 408 rehab beds in Scotland, with the Scottish government pledging to spend £20m a year for the next five years to increase that number across the country.
Castle Craig rehab clinic, a private hospital near West Linton in the Scottish Borders, has treated people for alcohol and drug addiction for 30 years.
Of its current patient list of 60, only two are NHS-funded. Around a quarter of its clients are Dutch - reflecting the value placed on its services by insurers in the Netherlands - with the remainder being privately funded or via health insurance.
The facility's medical director, Prof Jonathan Chick, said the proportion of Scottish patients - particularly those funded by the Scottish NHS - has fallen in recent years.
The weekly cost of treatment at the clinic ranges starts from £2,500, which Prof Chick said was out of the reach of most families - but not out of the reach of health services.
He told BBC Scotland: "They are providing quite expensive treatments for years and years and not looking at other opportunities."
Several frontline charities and critics of the Scottish government's approach to tackling the crisis have backed the Scottish Conservatives' Right to Recovery Bill.
The Tories say it will enshrine in law individuals' right to their chosen drug treatment, including residential rehabilitation services, which the party says would help get people off drugs and recover rather than simply managing their addictions.
Scottish Conservative leader Douglas Ross said: "This proposal has the backing of frontline groups and experts across the political spectrum. SNP MSPs are reportedly on board privately. We only need the government to wake up, stop stalling and support it."
Drugs minister Angela Constance said the government was working hard to get more people into treatment that works for them as quickly as possible.
She added: "Without treatment, there is little hope of recovery so we are funding as many community and third-sector initiatives as we can so that individuals have the widest possible choice and can opt for the support which suits them and their family."
2. Emergency overdose treatment
The Scottish government set up a drugs deaths taskforce in response to the crisis, which met for the first time in September 2019.
It has spent time gathering evidence and proposing changes that it says could quickly save lives.
The main focus of this has been the distribution of Naloxone, a medication that can reverse the effects of an opiate-related overdose.
Users often die because they are unable to breathe and, if used in time, Naloxone can restore breathing and save their lives.
Drug campaigners have been trying to get the kits into the hands of anyone who might have or be a witness to a drug overdose. This is mainly drug users and relatives but could also be anyone involved in services such as hostels or outreach workers.
Almost two-thirds of ambulance crews - who have been using Naloxone for many years - are now also able to distribute it to people who might need it, with the remainder due to be trained by the end of this year.
The most significant harm reduction services are methadone and buprenorphine which are offered to heroin addicts to reduce the risk of fatal overdose.
Methadone is controversial because it has been implicated in more drug-related deaths than heroin, the drug it is a substitute for.
Experts point out that methadone is recognised by the World Health Organization as an essential medicine but say it is not always delivered effectively.
David Liddell, of the Scottish Drugs Forum, said there was a "massive issue" around people on too low doses.
"We estimated around half of those on methadone are on too low a dose, so what is happening for individuals is they are then forced to top-up on street drugs," he said.
"That's fuelling the poly-drug use problem that we have and leading to deaths as a result."
He also said there were problems around access to methadone services and retention of drug users within treatment.
He said some countries such as Norway had a policy of "no unplanned discharges" and they would actively seek to bring people back into treatment.
Earlier this month, it was announced that Buvidal - an alternative to methadone that contains buprenorphine - would be rolled out across the country after a successful trial in prisons.
It allows patients to receive an injection every 28 days instead of having to visit a chemist every day to take their medication.
It is hoped this will allow patients to focus on improving their lives and overall health rather than managing their dependence.
All the experts who gave evidence to Westminster's Scottish affairs committee said the stigma around drug addiction was stopping people seeking treatment.
Prof Matheson said the people who needed help were the "most marginalised in Scottish society".
She said they were not willing, interested or engaged with services because they were stigmatised and did not want to come forward.
Prof Matheson said only about 40% of people who needed treatment were getting it.
She said: "They don't want to go to their GP if they have health problems, they feel stigmatised if they have a criminal record and they are stigmatised about getting work.
"This is keeping people excluded from the help and the care they need."
Prof Matheson said that, as a result, older drug users - who have a range of respiratory, cardiac, liver and kidney issues - were not seeking treatment and were physically more vulnerable to an overdose.
5. Safe consumption rooms
It is now more than four years since Glasgow City Council first proposed allowing users to take their own drugs under the supervision of medical staff at a special facility in the city.
The idea is to encourage users who inject heroin or cocaine on Glasgow's streets to enter a safe and clean environment.
It is hoped the special room would encourage addicts into treatment, cut down on heroin needles on city streets and counter the spread of diseases such as HIV.
The so-called "fix rooms" are already operating in some overseas countries but this would be the first of its kind in the UK.
They have the support of the Scottish government but drug laws are reserved to Westminster.
The UK government said: "We want to do all we can to stop people having access to drugs that could ultimately kill them. No illegal drug-taking can be assumed to be safe and there is no safe way to take them."
Glasgow announced Scotland's first scheme giving drug addicts diamorphine, a pharmaceutical-grade form of heroin, in November 2019.
They will have to attend the clinic, which has been licensed by the Home Office, twice a day, every day.
It is hoped the facility will help reduce street drug use, overdose deaths and the spread of HIV in the city.
It said Germany, Spain, Switzerland, Canada and, most notably, Portugal were among 25 nations to loosen the punitive attitude to drug possession to enable treatment programmes to succeed.
The Royal College of Physicians of Edinburgh (RCPE) has also recently called for the Scottish and UK governments to seriously consider decriminalising drug possession.
Changing the law to "decriminalise" does not mean class A drugs would be legal, but people would not be prosecuted for possession for personal use.
All UK drugs misuse legislation is currently reserved to Westminster.
The 1971 Misuse of Drugs Act bans the possession, supply, manufacture, import and export of controlled drugs except by licence.
A cross-party Westminster committee - chaired by SNP MP Pete Wishart but including four Conservative MPs, three Labour members, two Lib Dems and two other SNP MPs - found that decriminalisation was a "public health" approach that could cut the stigma around problem drug use and encourage people to seek treatment.
Schemes elsewhere channel drug addicts committing low level crimes into treatment instead of jail.
Police Scotland's Assistant Chief Constable Steve Johnson called for radical reform, saying politicians should have the "confidence and courage" to decriminalise.
He said the criminal justice process was actually pushing people into a place where there was more harm.
The woman leading the Scottish government's drugs taskforce, Prof Catriona Matheson, told BBC Scotland the evidence for decriminalisation was strong.
She said: "It is about not putting these marginalised drug users into prison because that further marginalises them and that makes the recovery all the more difficult."
The UK government later rejected the report's recommendation to reform the 1971 Misuse of Drugs Act and decriminalise drugs for personal use.
It said decriminalisation would not "eliminate the crime committed by the illicit trade, nor would it address the harms associated with drug dependence".
It added: "There is a strong link between drugs and crime, which is why we reject the assertion that the Department for Health and Social Care should lead on drug misuse. We know that people who regularly use heroin, cocaine or crack cocaine are estimated to commit around 45% of all acquisitive crime."
The Scottish Greens have called for both the UK and Scottish governments to admit that the so-called "war on drugs" has failed, and to instead focus on "restoring people's dignity and treating their addiction, rather than criminalising them".