Man guilty of North Lanarkshire security guard's murder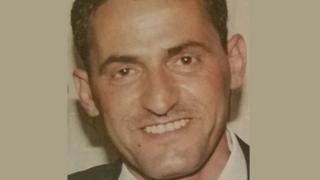 A man has been found guilty of the murder of a security guard who was run over by his own works van in North Lanarkshire.
Scott Pearson, 22, was convicted of killing Mohammed Abu Sammour following a trial at the High Court in Glasgow.
Mr Abu Sammour was beaten and reversed over at the Torrance Gardens development in Newarthill.
He suffered 83 injuries, including fractures to his face, skull and multiple rib fractures.
Judge Lord Burns told Pearson that he is facing a life sentence, but deferred sentence until next month for background reports.
Knuckledusters
The court heard that Pearson, his co-accused Ryan Hunter, 28, who pled guilty to culpable homicide before the start of the trial, and an 18-year-old man, who cannot be named for legal reasons, had walked through the building site as a shortcut on 28 October 2018.
They saw Mr Abu Sammour's works van and planned to steal it, not realising Mr Abu Sammour was inside the van.
When he tried to chase them away he was hit by the 18-year-old and then by Pearson, who were both wearing knuckledusters.
Mr Abu Sammour, a father of four boys, was stamped on and knocked unconscious by Pearson.
All three got into the van, with Pearson in the driving seat.
As the vehicle reversed, the court was told, Hunter told him that Mr Abu Sammour might be lying behind the van and he replied: "I don't care."
Hiding under bed
A home owner in the partially completed Taylor Wimpey housing development heard the sound of voices, a van revving and a thud. He went out and found Mr Abu Sammour lying in the road at about 01:00.
Paul Armstrong, 47, told prosecutor Murdo McTaggart: "Whoever was in the vehicle was wanting to get away quick and fast.
"I heard a groaning coming from outside."
He and his wife stayed with Mr Abu Sammour until an ambulance arrived.
He died in Wishaw General Hospital about an hour later.
Pearson, who denied the attack, was caught with the help of a tracker in the van and CCTV footage. Police found him hiding under his bed at his family home.
Mr Abu Sammour came to the UK from Palestine to study management. His wife Fidda, 40, also from Palestine, previously worked as a computer scientist in Jordan.
They have four sons aged 11, nine, seven and two.
'Peaceful man'
Outside court lawyer Aamer Anwar spoke on behalf of his client Mrs Abu Sammour and thanked all those who had shown kindness to her family.
"Mohammed Abu Sammour was a peaceful, kind man who showered his children and wife with love and happiness," he said.
"He made this country his home 17 years ago and dearly loved its people, but he also was held in high esteem by members of all communities."
Mr Anwar added: "The killers showed her husband, no compassion or humanity and [Mrs Abu Sammour] states that she will carry the grief of his loss until her dying breath.
"In the end, the name of Mohammed Abu Sammour will live on through their four sons, long after the names of his killers have turned to dust."