Technical failure causes major disruption to Arran ferry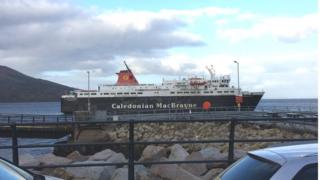 Major technical issues are causing disruption on one of Scotland's busiest ferry routes.
The MV Caledonia Isles, which serves the route between Ardrossan and Brodick on the Isle of Arran, had been diverted to Troon, 10 miles (16km) south of the intended destination.
But now a bad weather forecast for Tuesday means the ferry cannot berth at Troon.
Instead, a passenger-only service will run between Ardrossan and Brodick.
The problems stem from the failure of both linkspans at Ardrossan which means vehicles cannot be transferred from the ferry to the offloading ramp.
There is no suggestion as to when the issue will be resolved but ferry firm CalMac said it is pressing the owner of Ardrossan port to get the problem fixed urgently.
CalMac said there would be a "review for services on 9 October at 16:00 on Tuesday".
The issue emerged on Sunday and has caused disruption to services and island life since.
Some passengers said they were stranded and forced to sleep in their cars.
The situation has been made worse as a linkspan in Gourock - the ferry route's backup port - is also broken.
Since Sunday the vehicle service had been operating between Troon and Brodick.
However, poor weather forecast for Tuesday means this diversion will not be in place.
Instead, a passenger only service between Brodick and Ardrossan will operate.
Peel Ports operates the Ardrossan site and Gourock is run by Caledonian Maritime Assets Ltd (CMAL), which is owned by the Scottish government.
A CalMac spokesman said: "With a failure of the linkspan at Ardrossan and the linkspan at the normal port of refuge, Gourock, also out of action, we have had to look at other arrangements to continue to provide a vehicle and passenger service to Brodick.
"We are pressing the owners of Ardrossan and Gourock to get both linkspans repaired and operational again as soon as possible."
CalMac also deployed the MV Loch Riddon to the Lochranza crossing to help clear any backlog of traffic.
The company said both technical failures were outside their control and they had tried to minimise disruption as much as possible.
A spokeswoman from Peel Ports said: "We can confirm the linkspan is temporarily out of action. The issue has been identified and a plan of works to remediate the issue, as quickly and safely as possible, is being actioned.
"Alternative routes in and out of the mainland are in place. We apologise for the inconvenience caused and remain committed to resuming safe service as soon as possible. We will provide regular updates on the progress being made."