Pakistani-Scottish politician Bashir Maan dies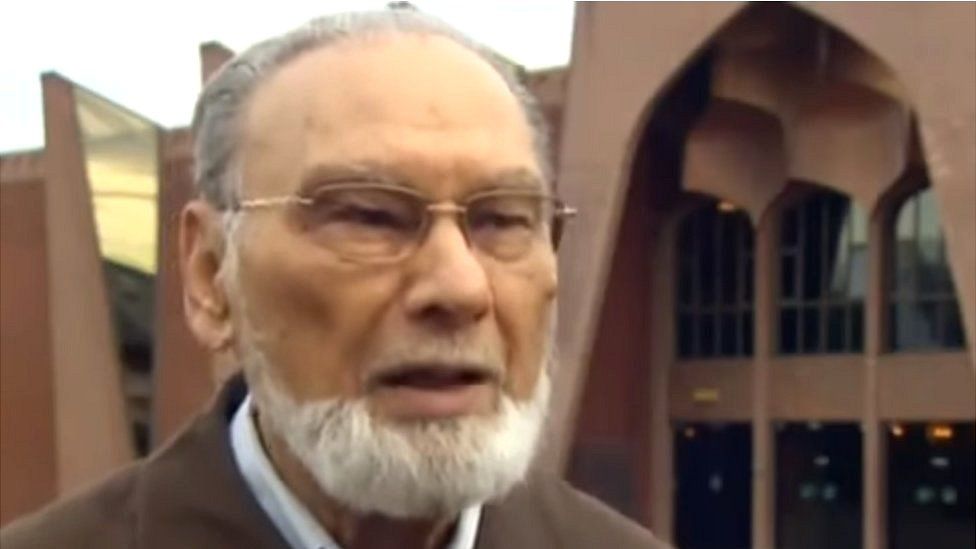 Bashir Maan, the Pakistani-Scottish politician, has died at the age of 93.
He was the first Muslim in the UK to hold an elected position when he became a Glasgow councillor in 1970.
A long-standing member of the Labour Party, he split with the party in 2004 over the Iraq War.
First Minister Nicola Sturgeon described him as "a trailblazer and role model in the Scottish Muslim community".
A spokesman for Mr Maan's family said: "He was a giant of the community and we are touched by the love shown for him. To us he was just dad and granddad and we ask to be given space and time to mourn his loss."
He was also chairman of Strathclyde Police board, a justice of the peace and he helped build Glasgow Central Mosque.
His biographer, Zara Mohammed, said Mr Maan still helped people who came to well after he retired.
She added: "When he joined the Labour party there were few people of his background involved so when it came to getting elected he thought he had no chance.
"There was no just expectation so when he won, and he knew it was white Scottish people who had voted for him, it was a major breakthrough."
His work with Strathclyde Police board brought him face-to-face with an officer who had previously racially abused him, Ms Mohammed said.
"I think they were both shocked to be in this position but as he did in so many of his roles, he just got on with his work and showed them why he deserved to be there as much as the next person," she added.
The Muslim Council of Scotland described Mr Maan as a "trail blazer who worked tirelessly for the community".
And Justice Minister Humza Yousaf said he encouraged him and other Scots-Asians to play their part in Scottish civic life.
His death was a "sad loss", he added.
Glasgow councillor Frank McAveety, leader of the city's Labour group, served alongside Mr Maan, who said had "humility and great wisdom".
"He broke barriers and paved the way for a whole generation of representatives from his community," he added.
"Our city is almost immeasurably better off because of his actions and we are all made poorer by his family's loss."
Sad to hear about passing of Bashir Maan, thought to be first Muslim in UK to be elected to office when he became a Glasgow Councillor in 1970.

We didn't always agree but he encouraged me & other Scots-Asians to play their part in Scottish civic life. A sad loss.

— Humza Yousaf (@HumzaYousaf) December 20, 2019
Human rights lawyer Aamer Anwar knew Mr Maan for more than three decades and said the Scottish Pakistani community "owes a great debt" to the former politician and "true community leader".
"Bashir was a revolutionary in his own right and achieved so much for our community over the years," he said.
"He helped many thousands and was the first to break the glass ceiling for minorities at a time when it was unthinkable."
He added: "On a personal level we had differences but as the years passed I grew to admire him for what he had done, an original trailblazer, who tore down the walls of inequality, earning respect from all as he did, an irreplaceable giant of whom we are so proud and Scotland will be eternally grateful to."