Scots author Alasdair Gray dies at the age of 85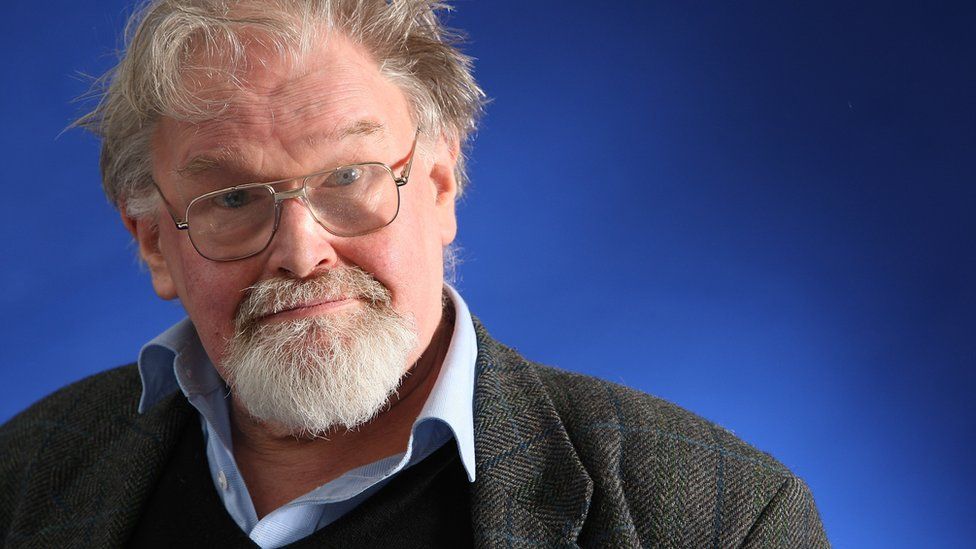 Renowned Scottish author and artist Alasdair Gray has died, his publisher has confirmed.
The 85-year-old was known for novels such as Lanark (1981) and the award-winning Poor Things (1992), which are both set in Glasgow where he was born.
His public murals are visible across the city, with further pieces on display in the V&A and the Scottish National Gallery of Modern Art.
He died on Sunday at the Queen Elizabeth University Hospital.
His family said he wanted to leave his body to science so there would be no funeral.
Such sad news. Alasdair Gray was one of Scotland's literary giants, and a decent, principled human being. He'll be remembered best for the masterpiece that is Lanark, but everything he wrote reflected his brilliance. Today, we mourn the loss of a genius, and think of his family. https://t.co/rJMWdfoRNL

— Nicola Sturgeon (@NicolaSturgeon) December 29, 2019
Relatives released a statement through Mr Gray's publisher Canongate. It said: "Early this morning we lost a deeply loved member of our family. Alasdair was an extraordinary person; very talented and, even more importantly, very humane.
"He was unique and irreplaceable and we will miss him greatly. We would like to thank Alasdair's many friends for their love and support, especially in recent years.
"Together with the staff of the Queen Elizabeth hospital, Glasgow, who treated him and us with such care and sensitivity during his short illness."
The author's death comes the day after his 85th birthday.
Alasdair Gray was a unique talent. In Lanark, and 1982 Janine especially, he wrote two of the greatest Scottish novels and influenced a creative generation. #RIP

— Irvine Welsh (@IrvineWelsh) December 29, 2019
Fellow author and friend Ian Rankin told BBC Scotland that Mr Gray was responsible for making everyday Scottish life interesting on an international level.
He said: "He could take something very personal to him - his background growing up in Glasgow for example - and make it that people around the world wanted to read it.
"He was part of that thing about taking Scotland out of the kailyard, writing sort of misty stories of Highland villages.
"Suddenly you were writing about things that meant stuff, writing politically, writing about your own experiences.
"His books were beautiful, they were crafted, they were elegant. He had a sense of fun, he was mischievous, he had this huge intellect but he was a 'lad of pairts' - he could do a little bit of everything and he did it all well."
Nick Barley, director of the Edinburgh International Book Festival said: "Scotland has been blessed with a host of great writers over the past 50 years, but if history remembers only one, it will likely be Alasdair Gray.
"He was a bright star in a luminous constellation of northern lights; a game-changer whose boundlessly innovative, cross-disciplinary thinking paved the way for so many others to succeed.
"We can thank Alasdair, not only for his own great work, but for his role in creating the conditions for a literary renaissance that has, in so many different ways, changed most people's understanding about what it means to be Scottish today."
'His genius will live on'
Francis Bickmore, Mr Gray's editor and publishing director at Canongate, said: "What sad news this is that Alasdair Gray is gone. It seems hard to believe that Alasdair was mortal and might ever leave us.
"No one single figure has left such a varied legacy - or missed so many deadlines - as Alasdair Gray.
"At least through Gray's phenomenal body of work he leaves a legacy that will outlive us all. His voice of solidarity and compassion for his fellow citizens, and his forward-looking vision is cause for great celebration and remembrance."
His agent Jenny Brown said: "We mourn Alasdair Gray's passing, but his genius will live on for readers through his remarkable work.
"He was a cultural trailblazer: nobody has done more to spur on, and give confidence to, the next generation of Scottish writers."
One of the artist's most famous murals spans the ceiling of the Oran Mor pub and restaurant in the west end of Glasgow.
A writer in residence at the University of Glasgow in the 1970s, Mr Gray was described as a "strong and close friend" of the institution.
Lifetime achievement award
University principal professor Sir Anton Muscatelli said: "Alasdair Gray was one of the true greats of Scottish art and literature.
"It is with great sadness that we mark his passing, but the many works he produced, from his magnificent novel Lanark to the inspiring murals that adorn the city ensure that his legacy will live on for many years to come."
Mr Gray was a supporter of Scottish independence, writing Independence: How We Should Rule Ourselves, which was published in June 2014 as Scotland geared up for the independence referendum.
In June 2015 he was badly injured in a fall at his home, which affected his mobility, though he later returned to work.
Last month the author was given a lifetime achievement award by the Saltire Society for his contribution to Scottish literature.
By Pauline McLean, BBC Scotland arts correspondent
I've been lucky enough to know Alasdair Gray since I was a student at Glasgow University in the 1980s.
My Honours dissertation was on his work, including the then recently published Lanark, which had cast a spotlight on someone who, despite being a polymath, from the humblest of backgrounds was never comfortable talking about himself.
Do you see yourself as a Scottish writer or a London writer?, asked a reporter from the London-based arts programme Monitor in 1983.
Was Dickens asked to describe himself as an English writer or a London writer? That question, sir, was unworthy of you, replies Alasdair Gray, with a grin.
But he goes on to answer it. "I would claim to be everything I might be suspected of. Glaswegian, Scottish, British, I'm everything."
The same was true of those who tried to pin him down as an artist or as a writer, one simply merged into the other. Sometimes it was his art which sustained him, as city recorder for Elspeth King at the People's Palace, making a series of paintings, documenting the changing city around him.
Many will still know him as the creator of the visual tales around their city, the murals of Oran Mor and Hillhead Underground Station among others.
It's hard to describe what a groundbreaking novel Lanark was.
And the city he described in Lanark - both real and fantastical - inspired many other writers, artists and readers to find their own voices.
At 80, he found himself, to his bemusement at the centre of a photocall for a retrospective at several galleries across Glasgow, including Kelvingrove, where he'd first been taken to art classes as a schoolboy.
For many people, it was a tribute to a titan of Scottish art and literature which was long overdue. For the jobbing artist, who recalled countless commissions taken to sustain his family, he was most bemused by the gift shop in which you could buy Lanark fridge magnets.
A fall in 2015, left him in intensive care for a number of months. It meant he missed Lanark being staged as part of the Edinburgh International Festival but visitors to his bedside told him about it, and it wasn't long before he began to work again, translating Dante.
The trilogy, for Canongate, which he illustrated as well as translated was the first thing he began work on when he returned home. When I last visited, he was deep in work, and once again bemused by the attention his accident had caused, and the outpouring of affection for him. Painting and writing were even then, inextricably linked.
He was a brilliant artist and writer, who made extraordinary art almost every day of what he believed to be an ordinary life. And I for one, will miss him.