Escaped Argyll fish farm salmon found in three rivers in England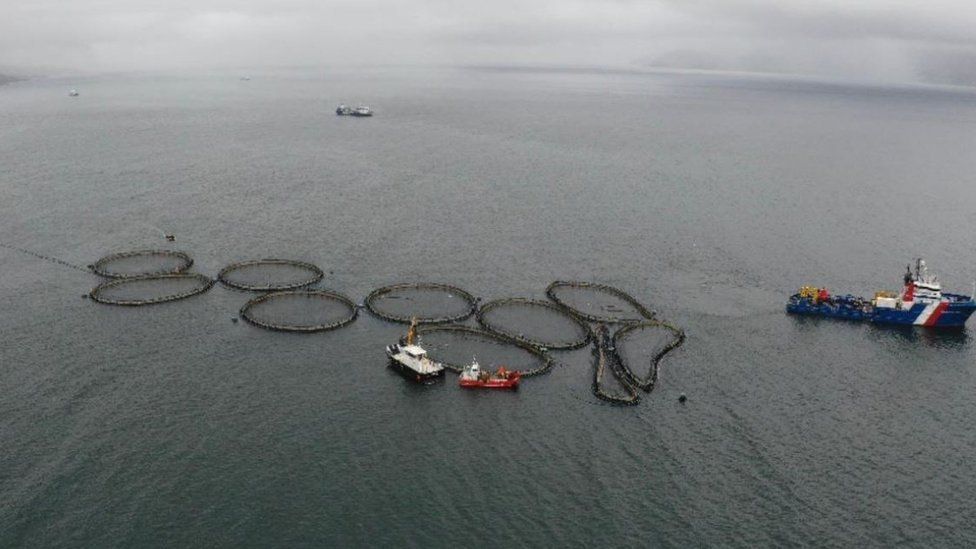 Salmon that escaped from a fish farm near Campbeltown during Storm Ellen have now been found in three rivers in Cumbria in England.
Many have been found in local waters but now six have been discovered 150 miles away.
The owner of the fish farm, Mowi, said it would not comment on every incident of suspected captures of farmed salmon.
The fish were caught on the River Ehen, the Border Esk and on the Cumbrian Derwent river.
More of the fish are suspected to be in other rivers in the area.
This has been a massive change in the ecological balance of a marine ecosystem and the full impacts of it are only just starting to play out.
The escapes have more than trebled the number of salmon in the seas around the west coast, all competing for the same food as a wild species already experiencing significant decline.
Many have already been caught on local rivers but for six to be caught in Cumbria - more than 150 miles away - suggests this is not just a problem confined to Argyll.
Scientists are working to establish the full impact but it may not be truly known for some time.
The cages at the North Carradale farm broke free in the storm and drifted half a mile causing damage to four of the 10 pens.
Thirty thousand salmon died but another 50,000 escaped.
The figure is more than double the number of wild salmon on the west coast and there are fears the sudden overpopulation could cause an ecological disaster.
The Environment Agency and Fisheries Management Scotland (EAFMS) is warning anglers to be vigilant for the last month of the fishing season.
Farmed fish are usually distinguishable by their damaged fins.
Brian Shields from the EAFMS said: "We want to see as many wild fish spawning as possible to benefit future fish generations which is why we want to make sure these farmed fish can be removed from our rivers, within the law, to prevent future damage to the wild stocks."