'We'd just begun our careers - and then the pandemic hit'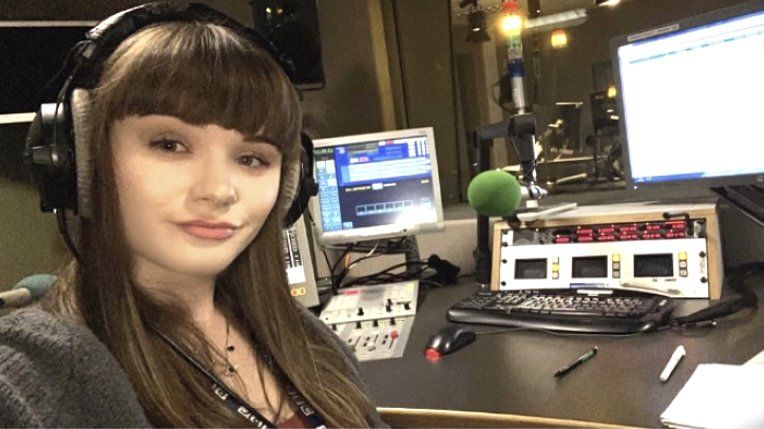 The sudden lockdown in March this year turned the world of work upside down. Millions were sent home to refashion their living rooms into a place to do business. For many that was a challenge, but imagine what it was like for those of us only just beginning our working lives.
I joined the BBC in September last year as a digital journalism apprentice working to a clear timetable in a number of departments. The on-the-job experience is combined with a college course that leads to a recognised professional qualification.
Modern apprenticeships like mine are based on something quite simple - they allow you to earn while you learn. But how much can you learn while working from home during a pandemic?
From 18 March my home became my office and thankfully I have coped better than I expected. It has pushed me to ask more questions and encouraged me to make the most of the time I have remaining in this role.
However, remote working has left me worried that people might forget the face that matches the name in the email. Was this a worry only for me, or have my fellow apprentices felt the same?
'I'm supported, but it's lonely'
Chloe Mulheron is an apprentice in the financial services department of Glasgow City Council.
The 19-year-old started eight months before lockdown and she believes if she had not had that time behind her she would have struggled.
She told me: "I find it hard sometimes to talk to new people and to get myself across, but they [colleagues] have been really helpful and they have been checking up on me and have been really supportive but sometimes you do feel really lonely.
"With the apprenticeship, it's all about communication and with working from home, it's very hard to communicate with others because you're just by yourself."
Chloe reflects on the resilience she has found: "Now I've settled in - and I know nothing's going to change soon - I do have different skills now and I can say, 'I can work from home myself and I'm good working in an environment where there's not a lot of people' so I feel it has advantaged me a wee bit."
The director of national training programmes at Skills Development Scotland (SDS), Katie Hutton, said it was important to remember that "first and foremost, apprentices are employees".
She added: "They are also learners too, and right across education - whether it be further and higher education activity - I think everyone is grappling with what do you do about people who are missing out on the student experience."
'It's been challenging, but I've got used to it'
Toni Durning from Cumbernauld is on a digital marketing apprenticeship with NHS 24 and has been working from home since March.
The team the 20-year-old belongs to is in charge of updating coronavirus information on the Inform website of the health service.
Toni's job is clearly an important one, but can she switch off and escape?
She explained that she and others in her team have put in extra hours to keep things going.
Toni added: "We've also taken on extra roles to do 'on-call' for our track and trace team for our internal team in case one of our staff test positive. It's a lot but it keeps your mind going when you're stuck indoors."
The apprentice said she was making steady progress before the pandemic and learning new skills, but that she had found that working from home gets in the way of smooth communication.
Toni said her contract has been extended until March which should allow her to go back into the office to gain the kind of experience she will need to apply for jobs.
"It's hard to learn when you're doing the learning over Zoom or Teams; doing the work and also going on training courses. It has been challenging, but as time has gone on, I've just got used to it."
'You've got to stay positive'
For Ashley Broadfoot there was a nice reward after working months from home through the pandemic.
The 26-year-old had been a business administration apprentice at Aberdeen City Council and has now secured a full-time job with the local authority.
She reflected on her experience of working remotely for seven months: "When you're in a position of learning and training it can be a little bit harder because you can't always access what you need from home."
But Ashley compliments her colleagues, saying communication was good and the right support was in place to study for her qualification at home.
She said she remained consistently optimistic throughout: "I mean, that's how we get through these things really, you've got to stay positive and have a good attitude and it definitely helps get through situations like these."
Skills Development Scotland boss, Ms Hutton, recognised that employers were trying different ways to engage apprentices and provide them with the wellbeing support they needed.
They have also had to adapt their assessment strategy including delivering learning online and being more observational about what apprentices are able to do.
Ms Hutton said: "It's down to the individual circumstances of the firm about what the continued employment status is like. Traditionally we've had very high rates of continued employment and if you look at the survey data, post apprenticeships are extremely high."