Archbishop of Glasgow Philip Tartaglia dies with Covid aged 70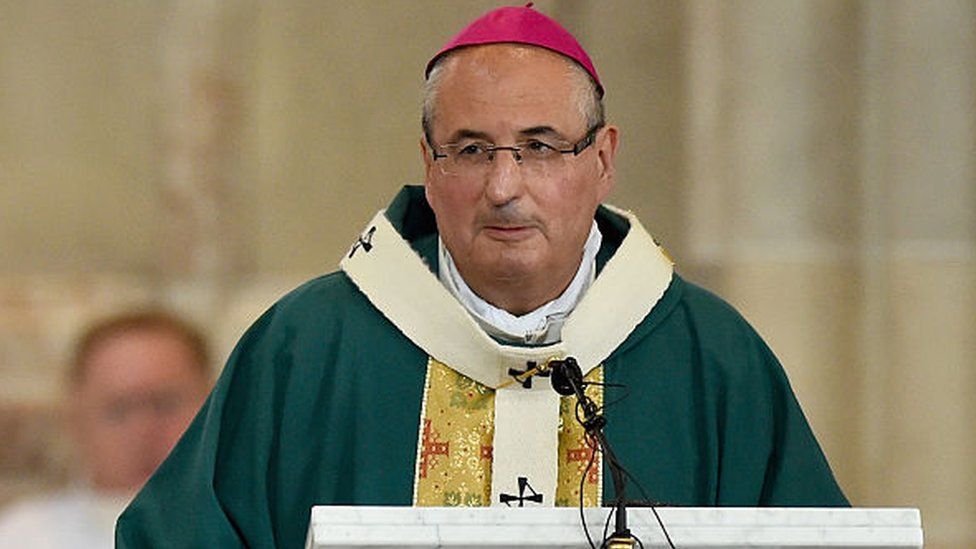 The Archbishop of Glasgow, the Most Reverend Philip Tartaglia, has died suddenly at his home in the city.
Archbishop Tartaglia had tested positive for Covid-19 shortly after Christmas and was self-isolating.
The Catholic Church said the cause of his death was not yet clear.
He was ordained a priest in 1975 and had served as leader of Scotland's largest Catholic community since 2012.
A statement from the Archdiocese of Glasgow said: "It is with the greatest sorrow that we announce the death of our Archbishop.
"The Pope's Ambassador to Great Britain, Archbishop Claudio Gugerotti, has been informed.
"It will be for Pope Francis to appoint a new Archbishop to succeed Archbishop Tartaglia, but until then the Archdiocese will be overseen by an administrator."
Scotland's Catholic bishops described Archbishop Tartaglia as a "gentle, caring and warm-hearted pastor".
They said in a statement: "His loss to his family, his clergy and the people of the Archdiocese of Glasgow will be immeasurable but for the entire Church in Scotland this is a day of immense loss and sadness.
"He was a gentle, caring and warm-hearted pastor who combined compassion with a piercing intellect.
"His contribution to the work of the Bishops' Conference of Scotland over the past 16 years was significant and we will miss his wisdom, wit and robust Catholic spirit very much."
The statement concluded: "On behalf of the Bishops of Scotland, we commend his soul into the hands of God and pray that he may enjoy eternal rest."
Archbishop Tartaglia was a lifelong Celtic fan and the club tweeted their tribute to him: "We are saddened to hear of the death of Archbishop Philip Tartaglia who was a huge supporter of the club and regularly attended matches at Celtic Park.
"Everyone at Celtic offers their sincere condolences to Philip's family and Scotland's Catholic community at this sad time."
First Minister Nicola Sturgeon said the archbishop was "a fine man who was much loved within the Catholic community and beyond".
Ms Sturgeon tweeted: "I always valued my interactions with him and he will be greatly missed. My thoughts are with his loved ones and wider community. May he rest in peace."
The leader of the Scottish Conservatives, Douglas Ross, tweeted: "Tragic news about the sudden passing of Archbishop Philip Tartaglia. My condolences to his friends and family.
"His death will be keenly felt within the Catholic Church and across the wider community."
The leader of Glasgow City Council described the archbishop as "a true Glaswegian" who "knew its people and the challenges faced by ordinary citizens, regardless of their faith or beliefs".
Councillor Susan Aitken added: "He was also unafraid to use his position to challenge deprivation, austerity and the ill-effects of welfare reform when he believed it was his duty to call them out."
Archbishop Tartaglia was born in Glasgow on 11 January 1951 - the eldest son of Guido and Annita Tartaglia.
After attending St Thomas' Primary in Riddrie, he began his secondary education at St Mungo's Academy before moving to the national junior seminary at St Vincent's College, Langbank.
He later attended St Mary's College, at Blairs, Aberdeen, before completing his ecclesiastical studies at the Pontifical Scots College, and the Pontifical Gregorian University in Rome.
On returning to Scotland, he was an assistant and then parish priest at Our Lady of Lourdes, Cardonald, St Patrick's, Dumbarton, and St Mary's, Duntocher.
Archbishop Tartaglia was ordained by then Archbishop Thomas Winning in the Church of Our Lady of Good Counsel, Dennistoun, on 30 June 1975.
He was a leading opponent of proposals to legalise same-sex marriage in Scotland and also criticised ministers over anti-bigotry legislation.
The Archdiocese of Glasgow is the largest of Scotland's eight dioceses with an estimated Catholic population of about 200,000. It comprises 95 parishes and is served by about 200 priests.
Archbishop Tartaglia was the eighth person to hold the office since the restoration of the Catholic hierarchy in Scotland in 1878.
He followed Archbishop Mario Conti and Archbishop Thomas Winning, who later became Cardinal Winning.