Motherwell church reported to police over 'illegal' services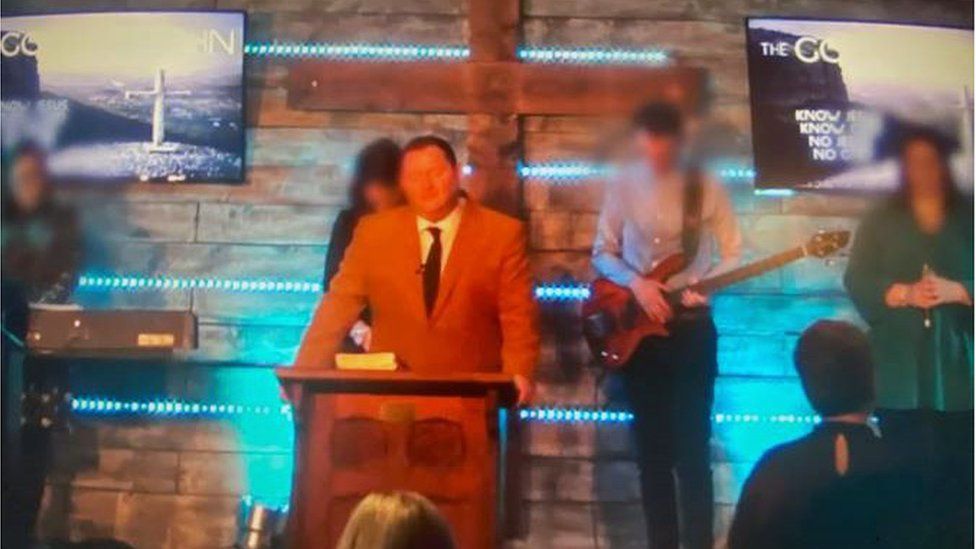 An evangelical church in North Lanarkshire has been reported to police over claims it has been hosting group prayer in breach of Covid rules.
Hope United Church in Motherwell has broadcast services with congregation members apparently gathering with little social distancing.
Parishioners were seen with no face coverings during the communal get-togethers.
Police Scotland said their officers were "engaging" with church leaders.
Places of worship in mainland Scotland, plus the isles of Skye, Arran, Bute and Gigha, are currently closed for either communal services or private prayer due to concerns around coronavirus.
Under the lockdown rules, they are only allowed to open for broadcasting a service, or conducting a funeral, marriage or civil partnership ceremony.
Churches on islands living under level restrictions can remain open, subject to two-metre distancing and a maximum of 20 worshippers. Wedding ceremonies and civil partnerships, with a maximum of 20 people, including the couple, are also allowed.
Motherwell MSP Clare Adamson described the videos, which have now been taken down, as "very concerning" and told BBC Scotland she had reported them to the police.
She said: "While the Hope Church are entitled to their own beliefs, they are not entitled to break the law.
"Any activity like this could be to the detriment of the whole community if Covid is reseeded. We are looking forward to a more normal time but this behaviour that could seed the virus in the community again is to be condemned."
Asked what she thought of the videos from the church - which is led Pastor Mark Ralston - the SNP MSP said she felt "a bit of disappointment, anger and dismay. We are all in this together and we have to do everything we can for one another".
She added: "It is very concerning. To think that the rules don't apply to one church is really not very fair on everyone else."
The Scottish government's decision to close places of worship has been controversial. It has been the subject of a judicial review after 28 faith leaders took their case to court.
First Minister Nicola Sturgeon has confirmed she will allow places of worship to reopen from 26 March, with attendance capped at 50 where social distancing permits.
A Police Scotland spokeswoman said: "We were aware of reports relating to potential gatherings at a church in the Motherwell area. Inquiries into the reports are ongoing and officers are engaging with representatives of the church."
The BBC has approached both the pastor and Hope United Church for comment.